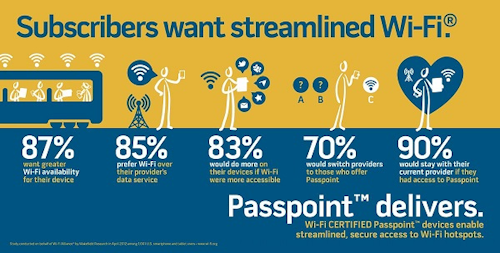 Image: Wi-Fi Alliance

Aruba Networks (NASDAQ: ARUN) announced that its wireless LAN products have been selected by the Wi-Fi Alliance for the Wi-Fi CERTIFIED Passpoint test bed.
"Wi-Fi Alliance congratulates Aruba for their participation in the expanded test bed, and for supporting new features that will further enhance the Passpoint certification program," comments Edgar Figueroa, president and CEO of Wi-Fi Alliance. "New enhancements to Passpoint will enable operators to extract even more value from their Wi-Fi deployments."
According to Wi-Fi Alliance, new capabilities in Passpoint include a streamlined process for establishing new user accounts, the ability to provision devices with appropriate security credentials, and support for operator-specific subscriber and network access policies. The new capabilities increase opportunities for operators to expand their subscriber base and drive greater value from Wi-Fi deployments in public venues.
For the test bed, the second largest mobile operator in the Kingdom of Saudi Arabia (KSA), Mobily, is collaborating with Aruba for a live Passpoint network deployment. Using Aruba Wi-Fi to power thousands of public hotspots, Mobily has augmented their cellular broadband infrastructure (which has more than 22 million subscribers) to deliver high quality broadband access in public venues including cafes, hotels, hospitals and other outdoor venues. The result of this carefully augmented Wi-Fi network is an enhanced subscriber experience that simultaneously reduces the load on the cellular network.

"Marrying Aruba's Passpoint-certified Wi-Fi network equipment with our cellular network enables our subscribers to automatically discover and securely connect to Wi-Fi networks when needed," says Mohammed Osman Alserier, Executive Manager Network Planning Support, Mobily. "This added connectivity offers several distinct benefits. It provides Mobily with the ability to offload subscriber data when in dense environments and offers subscribers a seamless mobile experience with ultrafast connectivity, while offering businesses a new opportunity to market to their customers."

Aruba Networks products used in the Wi-Fi Alliance Passpoint test bed include the 3600 Mobility Controllers, AP-105 Access Points (APs) and the Online Sign-Up (OSU) policy server based on ClearPass Policy Manager.

"The newly expanded features in Passpoint represent major milestones and further our common industry goal of ensuring seamless, secure connectivity for hotspot users," concludes Keerti Melkote, Chief Technology Officer (CTO), for Aruba Networks. "We are pleased to play a role in the important initiatives led by organizations like Wi-Fi Alliance and the Wireless Broadband Alliance (WBA) that will streamline the process of connecting to and roaming across Wi-Fi networks easily and securely. Wi-Fi is not only the primary means of network access within enterprises and homes, but thanks to Passpoint and the underlying technology, it will be the primary means of connectivity in public venues as well."