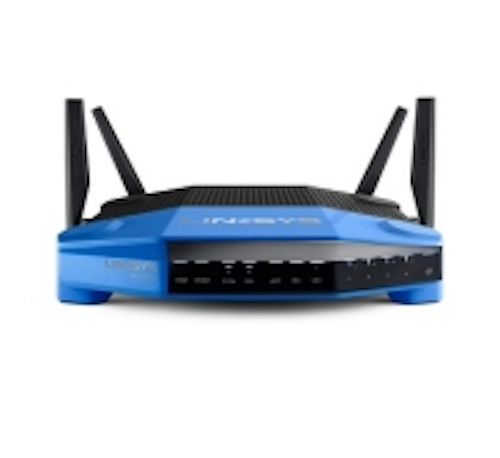 Linksys has started shipping its new WRT1900AC, a dual-band Wi-Fi router with a design inspired by the company's flagship model WRT54G, which was introduced 11 years ago. The new router features four external antennas for providing optimal wireless coverage throughout the home and has been certified for the new 802.11ac Wi-Fi standard, incorporating intelligent technologies such as beamforming to further improve wireless signal range.

The new WRT router's hardware includes a dual-core 1.2 GHz processor and 128MB flash memory, plus eSATA and USB ports. The router ships with the Linksys Smart Wi-Fi setup and management tools. Notably, Linksys says the WRT1900AC provides for enhanced wireless range via the unit's antenna diversity technology.
Like other 802.11ac routers, data is transmitted to wireless clients by the WRT using three spatial streams. Unlike many other 802.11ac routers, the new WRT model is equipped with four adjustable and removable antennas. The router automatically selects and utilizes the best three out of the four antennas to transmit and receive data to connected devices, depending on their location in the home.

See also: 802.11ac questions answered

According to the company, use of antenna diversity technology helps provide greater range and coverage compared to more traditional three-antenna devices, so all connected devices can achieve the best performance wherever they are located.
Since the WRT1900AC's initial announcement at the 2014 CES, certain new features have also been added in the router's development process. The new WRT now can be configured as a range extender or wireless bridge; software features have also been added including support for the No-IP dynamic DNS service. In a future firmware update, Linksys says it also plans to add Wi-Fi Scheduling and an OpenVPN-based VPN server to the WRT, to enable users to establish secure remote connections to the router.
The company is also reportedly collaborating with the OpenWrt consortium to ensure the eventual overall "open source readiness" of the router's firmware. The Linksys WRT1900AC dual band Wireless-AC router is currently at Best Buy retail stores and at the Linksys.com store at an MSRP of $279.99.

More news: Analyst sees WLAN growth stalling in 802.11ac transition