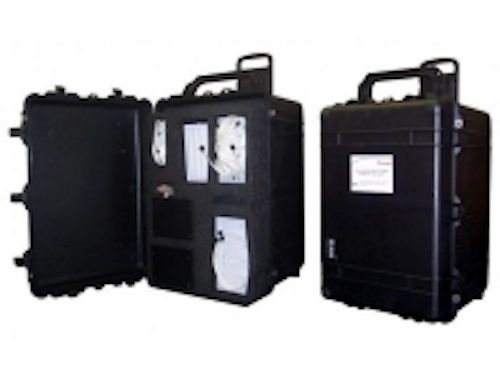 Ventev Wireless Infrastructure, a division of Tessco Technologies (NASDAQ: TESS), showcased its comprehensive product portfolio -- including a new wireless LAN site survey kit optimized for Cisco indoor access points -- at Cisco Live 2014 (May 18-22) in San Francisco.

New products on display from Ventev included the company's new TerraWave Cisco Indoor AP Wireless LAN Site Survey Kit (Tessco No. 502643), designed to enabled precise site surveys that eliminate deployment issues and allow for seamless network implementation of Cisco indoor access points. Easy to transport, organize, and inventory, Ventev says the kit equips system engineers with all of the critical products needed to perform professional wireless site surveys in most environments and industries.

More news:Ventev issues full deployment kit for GE's multi-network wireless system

Also new from Ventev and on display at Cisco Live: the TerraWave high-density patch antenna for Cisco and Meraki access points (TESSCO No. 515086), which features a narrow beamwidth and advanced technology designed to reduce the number of users per access point, increasing capacity for improved coverage in high-density networks.

Also at the show, Ventev displayed its PoE outdoor enclosure system for the Cisco 3602e access point (TESSCO No. 566513), which allows indoor access points to be deployed in outdoor environments. For refrigerator-type applications, Ventev also displayed a freezer enclosure system (TESSCO No. 501516). Finally, the TerraWave co-locating mount (TESSCO No. 568600) simplifies overall deployments of high-density networks by co-locating the wireless antenna with the access point, and features an aesthetically pleasing design that conceals the access point and cabling.

See also:Ventev Wireless Infrastructure gears up for BICSI debut

For more than 12 years, TerraWave, one of Ventev Wireless Infrastructure's three product lines and a Cisco Solution Developer, has been designing antenna, cabling, and enclosure solutions that simplify the process of deploying, maintaining and securing Cisco Wi-Fi networks in any environment. Visit www.terra-wave.com/cisco-live-2014 for more information on the Cisco-compatible products that Ventev offers.