Netgear launches dedicated WLAN products for educational, hospitality, assisted living facilities
The company launches its ProSAFE WC7600 wireless controller and WN370 wall-mount access point with PoE.

May 20th, 2014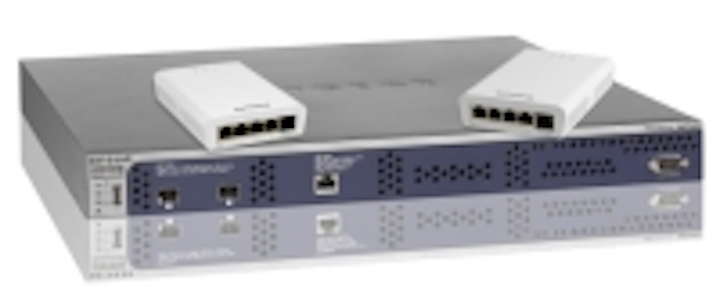 Netgear (NASDAQ: NTGR) has expanded its ProSAFE business-class wireless platform with two new products designed specifically to offer easy-to-deploy access for mid-sized hospitality facilities, K-12 schools, colleges, senior centers, assisted living centers, and other multi-tenant sites. The two new products enable such venues to leverage wider BYOD (Bring Your Own Device) adoption, while hospitality sites such as small- and medium-sized hotels and motels can better support new wireless connectivity applications. Netgear says the expanded product family is designed for the special requirements of these markets -- built with high performance, flexibility and ease-of-use in mind, while offering the best cost-performance solution on the market today.

"We have listened to our customers in hospitality, education and healthcare, and they have told us that they are looking for solutions that enable them to add more users to the networks very quickly and easily, in denser deployment scenarios," comments Peter Newton, senior director of product management for Netgear's commercial business unit. "They want flexibility in access point placement and in subscription options."

Newton continues, "To address this need, we've designed our stackable WC7600 wireless controller to make it easy to manage more access points for denser deployments, and the new ProSAFE WN370 wall-mount access point offers more placement options. Our licensing model enables customers to pay only for the licenses they need now, with the option to add more as they grow. Moreover, the WC7600 wireless controller is 802.11ac wireless-ready, providing investment protection for future applications or devices."

Related: Netgear aims managed Ethernet switches at building, campus LAN environments

Netgear says the ProSAFE WN370 single band 2.4 GHz Wireless-N wall mount access point is designed specifically for in-room coverage for wired and wireless access for small and medium-sized hotels and dormitories in educational facilities. Featuring Power over Ethernet (PoE) capability, the ProSAFE WN370 offers a compact form factor specifically designed to enable wired and wireless connectivity in mid-sized multi-tenant sites, reducing the cost of running multiple Ethernet cables to each room.

The WN370 has a sleek, elegant, and compact design that enables the access point to be deployed in an inconspicuous manner and to be installed quickly even by non-technical personnel. Powered via PoE with a 1 Gbps uplink and 4 (100 Mbps) Ethernet data ports, plus an additional voice port for connectivity to digital phones, the WN370 is centrally managed by the new ProSAFE WC7600 wireless controller, and offers automatic RF and power tuning with guest captive portal and comprehensive wireless security.

According to Netgear, the new ProSAFE WC7600 Premium wireless controller supports centralized management for the complete range of Netgear's business-grade ProSAFE managed access points, including singe-band and dual band products, with 2x2 and 3x3 options, as well as the newly announced WN370 wall-mount access point. Designed with simplicity in mind for management and ease of use, the WC7600 offers enterprise-grade functionality and capability for small to mid-sized organizations, but without the cost and complexity of "big IT."

See also: The risks of 'taking BYOD too far'

The WC7600 is billed as a scalable, secure mobile access solution that can support a small organization with dozens of users, with up to several thousand concurrent clients across 150 access points in a stacked arrangement. Further, via the Netgear's Ufast protocol, the WC7600 delivers ultra-fast access point discovery, Layer 2 and Layer 3 fast roaming, a captive portal for guest access, a fully distributed architecture, and ease of configuration and management. A pay-as-you grow licensing model of ten access point licenses ensures that the organization only pays for what is needed.

The following is the complete list of ProSAFE Managed Access Points supported by the new ProSAFE WC7600 Wireless Controller:

ProSAFE WNDAP660 Premium Wireless-N Dual-Band Concurrent Access Point
ProSAFE WNDAP620 Premium Wireless-N Dual Band Access Point
ProSAFE WNDAP360 Dual Band Wireless-N Access Point
ProSAFE WNDAP350 Dual Band Wireless-N Access Point
ProSAFE WNDAP380R Dual Band Wireless-N Access Point (China only)
ProSAFE WN370 Single Band 2.4GHz Wireless-N Wall Mount Access Point
ProSAFE WNAP320 Wireless-N Access Point
ProSAFE WNAP210-200 Wireless-N Access Point

The new NETGEAR business-grade wireless LAN products are available now through a variety of Netger's PowerSHIFT partners and authorized reseller and DMR channels. Below are the manufacturer's suggested retail prices (MSRP) in the U.S., although final pricing for the end customer may vary depending on the reseller and bundled offerings:

ProSAFE WC7600 Premium Wireless Controller with 2 basic access point licenses: $3,079 MSRP
ProSAFE WC10APL 10 Access Point License: $1,056 MSRP
ProSAFE WN370 Single Band 2.4GHz Wireless-N Wall Mount Access Point: $219 MSRP
ProSAFE WNDAP660 Premium Wireless-N Dual-Band Concurrent Access Point: $829 MSRP
ProSAFE WNDAP620 Premium Wireless-N Dual Band Access Point: $715 MSRP

For more Information, visit www.netgear.com/business/products/wireless/.
More news: Paper unpacks IT considerations for BYOD initiatives