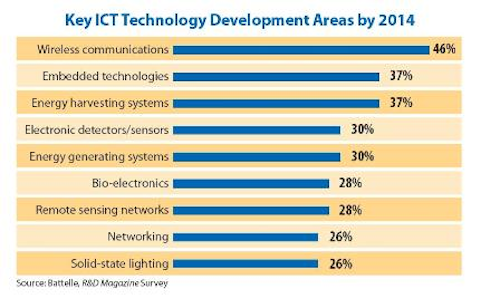 An annual report authored by research-and-development firm Battelle and published by R&D magazine says that R&D spending in the information and communications technology (ICT) industry will increase by 9.9 percent in the United States in 2012, and increase by 4.1 percent globally. When announcing the publication of the "2012 Global R&D Funding Forecast," Battelle stated, "During the past two years, ICT-related manufacturing has been particularly volatile, with leading companies experiencing commercial dynamics following the introduction of new products arising from R&D decisions. Despite these fluctuations the United States' R&D spending in the ICT industry is forecast to increase by 9.9 percent, reaching $138.8 billion in 2012. This U.S. growth helps drive an overall global ICT industry growth of 4.1 percent to $238.5 billion.
"Information from The Economist's Intelligence Unit affirms that the U.S. remains the world's most competitive country in ICT," Battelle continued, "but notes that developing nations are beginning to close the gap. The U.S. and Japan make up nearly 70 percent of all global ICT investments."
The section of the forecast that specifically addresses ICT mentions wireless infrastructure as well as cloud computing as factors in R&D investments. It makes reference to the Telecommunications Industry Association's most recent R&D Policy Report, in which it urged United States policymakers to fund the Wireless Innovation Fund. The Battelle report also noted, "With the U.S. government alone currently estimated to spend more than $20 billion in cloud computing, [an $8 billion investment to improve cloud computing technologies] by Microsoft may not be as risky as some analysts initially noted."
The graph at the bottom of this page is from the Battelle report's ICT section and puts wireless atop the development areas in 2014.
Among the "macro" issues addressed in the overall report, Battelle says, "One of the most remarkable findings is that R&D funding growth will largely be driven by Asian economies - a number projected to increase by nearly 9 percent in 2012," - though that is not the case in ICT, where Battelle notes, "While China is excelling in many other industries, Huawei Technologies is the only Chinese company in the top 30 firms ranked by ICT R&D spending."
Also on the grander scale, Battelle says, "Another notable trend the Funding Forecast reveals is the increased expectation that R&D investments will provide financial returns and positive commercial outcomes. Several years ago, only 10 percent of U.S. industries calculated return on investment from R&D efforts, while data from a survey that is part of the Funding Forecast now indicates that 40 percent measure that figure."
In a recent blog post, CommScope's senior vice president of technology Luc Adriaenssens discussed the concept of R&D ROI. In the post, Adriaenssens says, "It's not often acknowledged, but failures are a built-in part of R&D projects ... Failures are the building blocks of the big successes that occur in engineering, science, innovation and exploration. But it is how failures are treated, and how early they are determined, that can make or break the success of any significant development program." He elaborates further on metrics that can be used to enhance ROI in R&D.
You can read Luc Adriaenssens' blog post here.
You can download the 2012 Global R&D Funding Forecast in its entirety (36 pages, approx. 10 MB PDF) here.