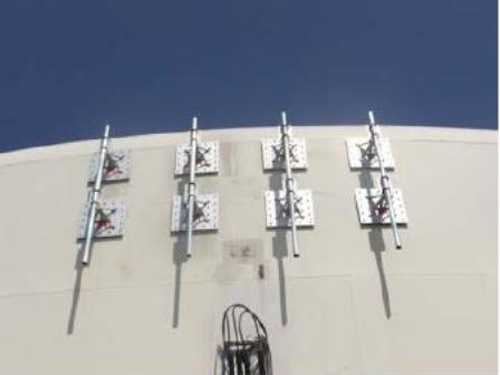 Metal and Cable Corporation, developer of the Magnemount Antenna Mounting System, recently was called upon by AT&T to secure the new antennas that expand the carrier's 4Gwireless network frequency range from 70 MHz to 2 GHz. In order to achieve the capacity upgrade, AT&T replaced 4-foot antennas with 8-foot antennas on a water tower owned by the Irvine Ranch Water District (IRWD) in Irvine, CA. The 25-foot-high, 1-million-gallon tank does not have an external tank-top flange to which antennas might be attached, so AT&T had to achieve a side-tank mount for its 8-foot antennas.
Metal & Cable Corp. further explains, "AT&T's existing antennas were mounted using epoxy bond on the sides of the water tower tank and were loose due to extensive tank movement ... A permanent solution was needed to replace them. The IRWD had mandated an alternative mounting solution - also ruling out capacitor discharge (CD) welding and spot welding, both of which would require tank shutdown for draining and also presented potential EPA issues involving maintaining the integrity of the tank's membrane seals."
Tasked with achieving a solution, Diversified Communications Services' vice president and founder Steve Hurley contacted Metal & Cable Corp. about its Magnemount system. "The system is engineered with a series of permanent magnets that combine with an independently suspended mounting system to provide a non-invasive solution to adhere to the steel surfaces with varying curvatures of water towers, including side sectors," Metal & Cable Corp. says.
Although the mounts are placed at the top of the tower, the installation begins at ground level, where each base plate is mounted to a horizontal shank that attaches to the vertical mast with U-bolts, which are tightened to securely hold the final antenna pipe and assembly. Atop the water tower, installers pick a desired surface location and place the Magnemount base plate, the company explains. The magnets are then loosened to automatically orient themselves to their maximum capacity. The lock-nuts on each magnet need one turn with a hand wrench to secure the mount in place. Once they are secured, the antenna is mounted and the installation is completed.
Diversified's purchasing agent and equipment manager Aurelio Gonzalez recalled, "The system installed within two hours tops, then AT&T was live on air. The whole sector could have been shut down otherwise as this could have taken days or even weeks if it was spot welded, which would require grinding, shooting studs, fabricating mounts, possible tank draining, and even involve specialized painting."
Diversified's Hurley added, "The Magnemount Side-Mount system delivered vital speed-to-market and expanded the 4G network coverage for AT&T's customers as the new system covers four of their bands in one antenna."
Magnemount Side-Tank Mount (Model SMT) is one of five modifiable designs of the magnet-based mounting system. Metal & Cable Corp. explains, "Because the system is entirely magnetic and the bottom of the magnets are covered with a Mylar pad, it requires no epoxy coating or invasive welding, which could adversely affect the water tank's protective surface coatings and bladder seals, thus meeting IRWD's mandate. Additionally, the Model SMT is specifically configured for a water tower tank's side sectors."
You can find more information on Metal & Cable Corp. and Magnemount products here.