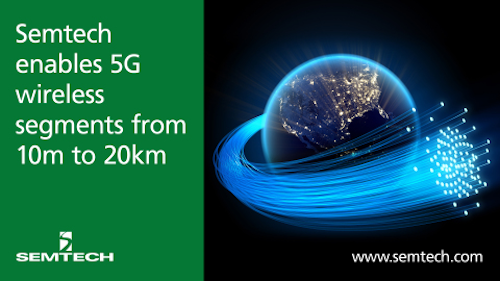 Semtech Corporation (NASDAQ: SMTC), a supplier of high performance analog and mixed-signal semiconductor and algorithm technology, today announced the immediate general availability of its ClearEdge and FiberEdge IC portfolios, optimized for optical transceivers serving 5G wireless applications.
Semtech recently helped launch flagship 5G deployments with its ClearEdge platform, used in applications for 5G wireless 300m / 10km / 20km modules, and is now delivering integrated PHY/PMD solutions. This technology enables module vendors to develop more fully optimized next gen optical transceivers.
"The unprecedented and strategic nature of 5G has come into sharp focus in recent months and 5G deployments are expected to accelerate throughout 2019," says Dr. Timothy Vang, VP of marketing and pplications for Semtech's Signal Integrity Products Group.
How the cabling industry can prepare for 5G
Vang continues, "Apart from being faster and more reliable, 5G wireless networks are transforming how devices connect to the Internet and with each other. 5G enables key markets such as virtual reality, autonomous vehicles, Internet of Things (IoT), and other applications requiring high throughput, massive network connectivity and ultra-low-latency for real-time operations. With higher amounts of mobile data, 5G wireless networks require higher speed wired interconnect. Key components of these wireline networks are optical transceiver modules capable of supporting industrial temperature range for distances starting from 10m to over 20km."
Semtech's optical networking product platforms provide high-performance signal integrity for optical module solutions used by leading companies in the data center/enterprise networking, wireless infrastructure and passive optical network/Fiber to the X markets. Semtech's Vang adds, "We believe WDM will be an important segment for 5G in Korea and Japan, while tunable and DML based modules will be critical for China market. Europe and North America will utilize existing wireless architecture that requires multi-mode fiber optical modules."
"Semtech is one of the leading suppliers of ICs for optical transceivers used in 4G wireless applications and we now look forward to playing a leading role in enabling 5G," concludes Gary Beauchamp, executive vice president and general manager for Semtech's Signal Integrity Products Group. "It is our mission to help customers succeed with highly innovative products for this emerging market. Our complete portfolio of ICs deliver best-in-class technical performance and commercial value and will enable the wide range of optical transceivers needed in 5G deployments."
View ClearEdge and FiberEdge IC technical spec info here.
For more information, visit https://www.semtech.com/products/signal-integrity.
Cisco drives cloud native 5G network; Legrand acquires UEC; 5G FO cabling req's shift - Last week's top stories