Recovery well underway for enterprise networking, researcher says
WLAN equipment, Ethernet switches, and enterprise routers will grow in deployment as users make necessary infrastructure investments.
Mar 26th, 2010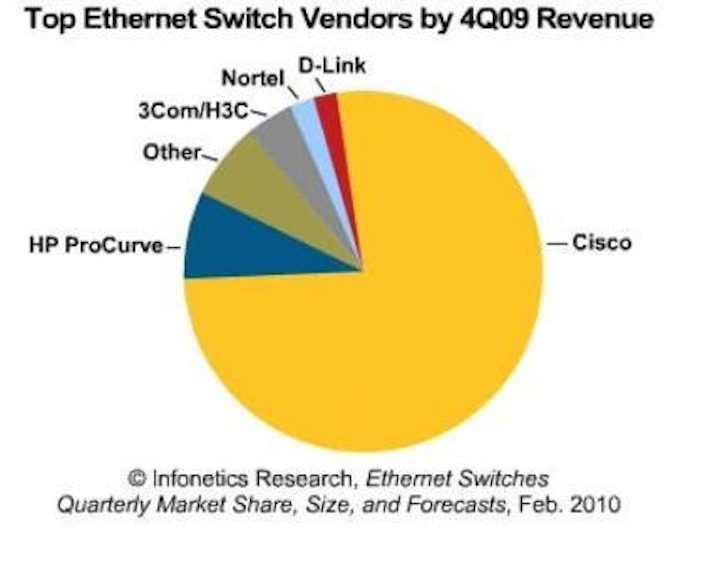 Three enterprise networking market reports recently released by Infonetics Research indicate that economic recovery is well underway, the company says. Infonetics released fourth-quarter 2009 and year-end data, vendor market share, analysis, and forecasts for three market segments: Ethernet Switches, Enterprise Routers, and Wireless LAN and WiFi Mesh Equipment and Phones.
"The Ethernet switch, enterprise router, and wireless LAN equipment markets have improved significantly from the lows set in the first half of 2009," said Matthias Machowinski, directing analyst for enterprise voice and data with Infonetics, "but are still down overall in 2009 compared to 2008. With the economic recovery underway, we expect sales to rise across the board in 2010 and beyond as companies make necessary infrastructure investments and slowly expand again."
Here are highlights from each of the three reports.
Ethernet Switches

Grew 15% sequentially in 4Q to $4.2 billion
Year-over-year (4Q08 to 4Q09) port shipments were up 4%
Revenue was hurt in 2009 by purchasers choosing lower-cost switches
Like everything, 10G Ethernet switches took a dive in 1Q but recovered well, with worldwide revenue growing 63% overall in 2009 versus 2008
Enterprise Routers
Grew 10% sequentially in 4Q to $821 million
Sales are stabilizing in all regions, with sequential sales growth and year-over-year declines shrinking
Overall revenue was down 28% for the full year, to just slightly more than $3 billion
3Com was the year's big winner as the only vendor to increase enterprise router revenue in 2009
Wireless LAN
Sequentially steady from 3Q to 4Q 09 at $571 million, but year-over-year growth for the quarter was 16%
Decent recovery from the steep drop in early 2009, to end down 6% for the full year
Wired/wireless LAN convergence, enterprise mobility, and fixed-mobile convergence will drive growth this year and beyond
Cisco leads with 46% market share, followed by Aruba