10-Gig free-space optics link helps Hollywood production studio
The Post Group, a post-production facility for television and film, moved operations and needed a building-to-building high-speed link.
Feb 12th, 2010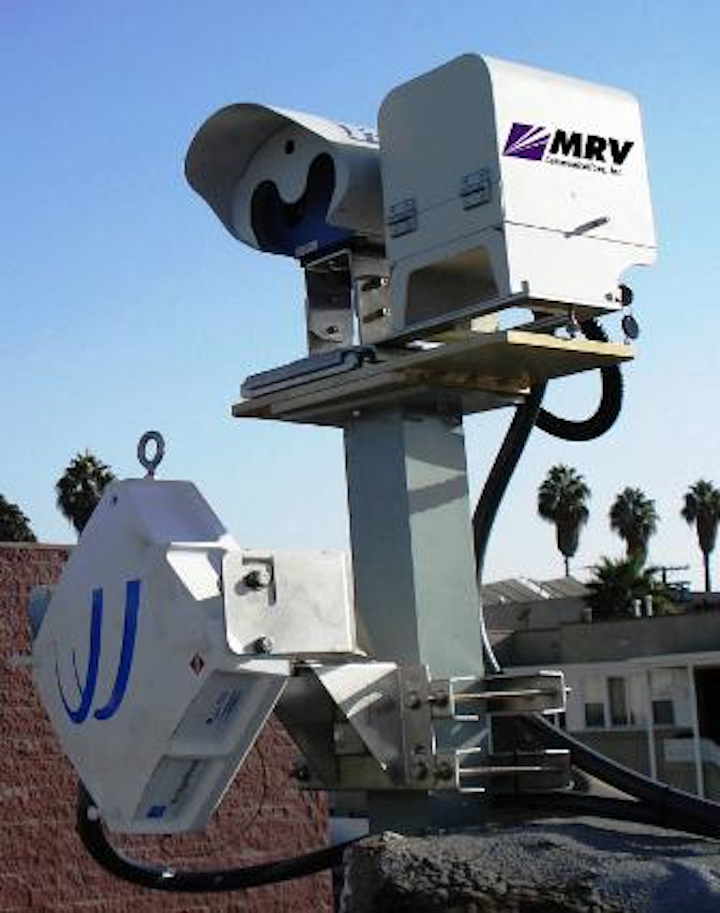 Free-space optics (FSO) technology is put in place most often as a high-speed connection of 100 or more Mbits/sec for enterprise users that either cannot link two buildings with cable, or cannnot cost-justify such a cabled link. Recently the first-ever 10-Gbit/sec FSO link was deployed for The Post Group, a Hollywood, CA-based post-production company for television and film.
The story behind the story is that The Post Group sold one of its buildings to the Academy of Motion Pictures Arts and Sciences to make way for that group's planned Hollywood museum. That office move prompted the need for a rooftop-to-rooftop FSO connection. The Post Group went with the highest speed available, MRV Communications' TereScope 10GE.
System Support Solutions, based in the Twin Cities area of Minnesota, conducted the installation. We spoke with the company's president, Peter Schoon, about that job as well as some other goings-on in the FSO business.
CI&M: Is there much demand for super-high speeds like 10 Gbits/sec from your FSO customers?
Schoon: The biggest news in the industry is probably MRV's 10-Gig product. 10-Gig is getting requested now. When MRV first started work on that product two years ago, I didn't get many requests for that speed. But now I do. The big home for FSO continues to be a company that has a 10-Gig environment and is expanding across a campus. The Post Group installed a 10-Gig link and backed it up with 1 Gig of RF [radio-frequency connectivity]. It added between $16,000 and $17,000 to the project cost, but to have dual paths on a rooftop … their telco option was very expensive. MRV's 10-Gig design uses an erbium-doped fiber amplifier, which solves amplifying issues.
CI&M: What are some recent customer-driven product improvements found in FSO systems?
Schoon: One is a Web-based management interface. Customers really do want that. Lightpointe has added it to some of their equipment and MRV Communications has it across the board. Power over Ethernet is also very popular, especially for 100-Megabit links. Typically a 100-Mbit link is installed in a lower-cost environment. And using PoE over a Category 5 cable can save three or four, sometimes up to six thousand dollars on an install.
Another feature is adding an RF feature as a backup to lasers. It gives a dual-path hybrid link at little [additional] cost. This type of feature had been bundled and sold as part of a more-expensive package. But in the enterprise industry what's important are low cost and simplicity. With this backup feature, the link is 100% available. If you put this in, you have 100% redundancy and the telco doesn't.
CI&M: After 10 years installing FSO systems do you find them durable?
Schoon: Some of our early links are still running flawlessly. The second install I ever did is nearby [in Minnesota]. I call him every year and he says everything's good; his only question is when I'm going to take him to lunch. We offer three-year on-site support and maintenance, and we don't think twice about renewing those agreements. With some customers we are on our third agreements, which will take them to nine years of coverage.
Look for more of this interview with Peter Schoon in the March issue of Cabling Installation and Maintenance.