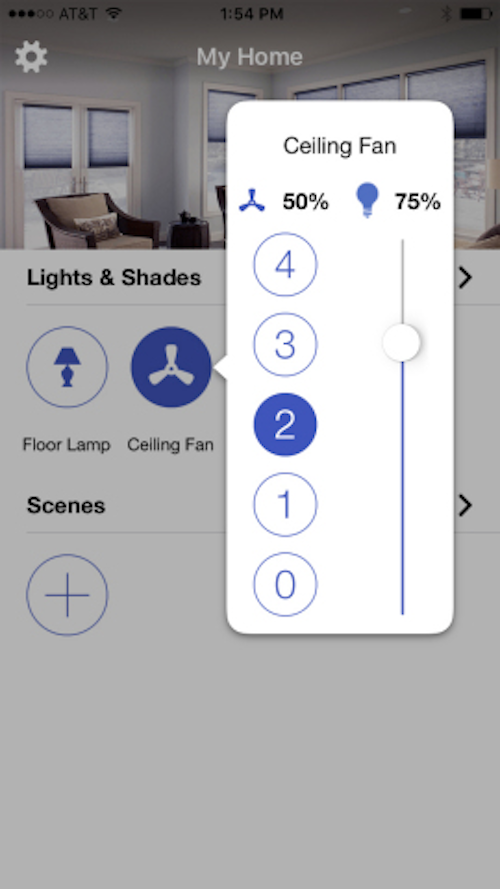 Smart home specialist Lutron Electronics announced the compatibility of its Caséta Wireless system with new Wi-Fi and Apple HomeKit-enabled Symphony and Signal ceiling fans from Hunter Fan Company. Available now for $299 and $349, respectively, these are the first HomeKit-enabled ceiling fans on the market, according to the companies -- with more models to follow soon. Lutron says it launched the Caséta Wireless Smart Bridge and dimmers as a "quick and easy way to control lights, shades, temperature, and audio, from anywhere inside or outside the home (even while on vacation), enhancing home comfort and security."

"Lutron creates great homeowner experiences," comments Matt Swatsky, director of product management at Lutron Electronics. "It's all about making life easier. With our products you can control lights, shades, temperature and audio with an easy-to-use app on a smart device. Giving homeowners the ability to control their ceiling fans from the convenient Lutron app, or from Siri, is just a natural extension of the way Lutron approaches comfort and convenience within the home."

According to a product press release: "Last year, the Caséta Wireless system was hailed as one of the first Apple HomeKit-enabled products on the market. Now, using the Lutron App, homeowners can easily adjust their Hunter Symphony and Signal ceiling fans (including the light) to a preferred setting, and easily set the perfect scene with other lights and shades. Caséta Wireless users can also use convenient voice control – simply tell Siri, 'Turn on the fan,' or 'Dim the family room light to 50 percent.'"

"Hunter Fan is excited to work with Lutron to offer this next generation of control," says Jeremy Tarr, director of business development at Hunter Fan Company. "Our fans efficiently enhance comfort and contribute to the ambiance of the room along with many other devices. Now, with the Caséta Wireless system, consumers can easily adjust all of those elements to personalize their environment."

Priced from $99, the Caséta Wireless kits are available on Amazon.com, Apple Stores and Apple.com, BestBuy.com and Best Buy stores, HomeDepot.com and The Home Depot stores, Lowes.com and Lowe's Home Improvement centers, Magnolia Design Centers, select Magnolia Home Theater stores, and from local electricians, lighting showrooms, electrical distributors and home technology professionals. The free Lutron App for Caséta Wireless is available on iTunes and Google Play. Caséta Wireless enables dimming of incandescent, halogen, dimmable CFL, and dimmable LED bulbs. Visit www.casetawireless.com for more information.
Search the Cabling Installation & Maintenance Buyer's Guide for companies, new products, press releases, and videos: