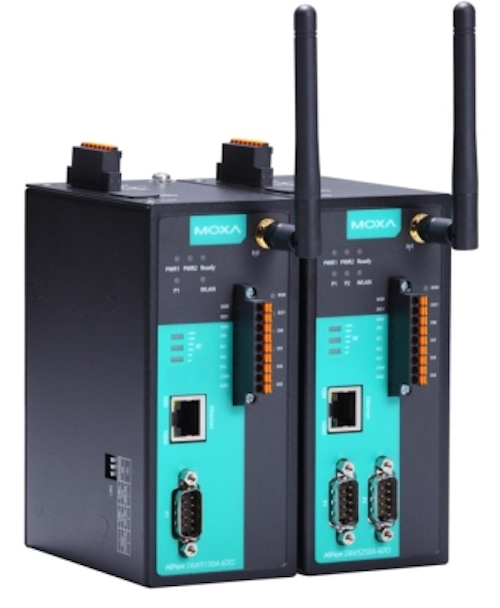 Moxa describes its NPort IAW5000A-6I/O as "an enterprise-scale, out-of-the-box solution that conveniently integrates a RS-232/422/485 serial device server, a WiFi client/bridge, and multiple digital I/Os into a single compact device." The company says that deploying the server allows industrial plant managers to wirelessly connect machinery to an IEEE 802.11a/b/g/n network for collection, remote monitoring, and analysis of real-time visual insights on machine performance to ensure optimal manufacturing performance.
Paul Wacker, product marketing manager for device connectivity with Moxa, commented, "Today's manufacturers are under pressure to increase the productivity of every machine on the plant floor. Our new NPort provides a drop-in solution connecting existing equipment via WiFi to gain valuable new insights about what is going on in each machine in real-time and how it is impacting productivity."
The company pointed out that any RS-232/422/485 serial or Ethernet device in the field can be linked to a wireless device. Additionally, the NPort IAW5000A-6I/O's multiple digital input/outputs make the device "ideal for industrial data acquisition where dividends are paid in heightened efficiency, reduced production downtime, and lower overall costs. Also, because it supports baud rates between 50 and 921.6 kbits/sec, the NPort IAW5000A-6I/O ensures reliable connectivity to the widest range of devices.
"Gone are the days of spending the time to configure three different devices, going back and forth between different vendors for technical support, and buying different spare parts to maintain the different devices," Moxa boasted. "With the NPort IAW5000A-6I/O, all three critical functions—RS-232/422/485 serial device server, WiFi client bridge, and digital I/O—are integrated so that installation, troubleshooting and maintenance costs are dramatically reduced when compared to using two or three separate devices."
Additionally, Wacker cited example scenarios in which the server can be used in industrial as well as non-industrial applications. One was legacy serial CNC (computer numeric control) machines. "These older, capital-intensive machines are rarely connected to a plant's network, leaving plant managers in the dark as to production status," he said. "Using the NPort IAW5000A-6I/O, CNC machines can be actively monitored to acquire data via Ethernet and/or wireless communications."
He also described the device's use in a large parking lot. "Detectors built into the back of individual parking spaces could be wirelessly read by the NPort IAW5000A-6I/O to let the head office know which parking spaces are taken and which are open. Available spaces can be displayed on a screen at parking lot entrances to assist drivers and improve customer satisfaction," Wacker explained.
The NPort IAW5000A-6I/O offers 4 kV surge protection for serial lines to protect electrical devices from voltage spikes and to damp out electrical noise.