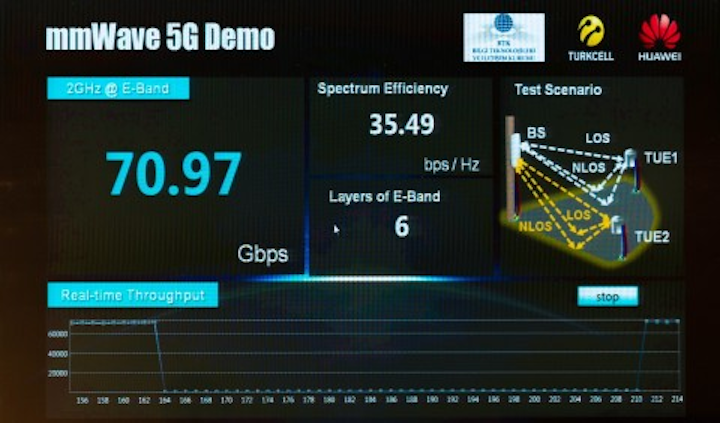 On June 16, Turkcell (Istanbul), the leading mobile phone operator of Turkey, and Huawei announced that the companies had joinly broken a record by carrying out their first 5G mmWave [millimeter wave] speed test together in line with their respective network capabilities. In the test performed using real 5G equipment in the 71.5 - 73.5 GHz frequency band, the companies reported that a new speed record of 70 Gbps was reached. According to a press release, "In this regard, Turkcell has become one of the few mobile operators in the world that can reach a speed that is impossible with current technologies, using the technology of the future, 5G."
With the support of the Information Technologies and Communications Corporation (BTK), the announcement signifies how Turkcell has taken another step in its partnership with Huawei, with which it set off to deepen work in 5G technologies and intensify joint R&D work together. The tests, carried out at Istanbul Turkcell Küçükyalı Plaza, used 5G equipment in the 71.5073.5 Ghz frequency band, known as mmWave. Figen Kılıç, a member of the Information Technologies and Communications Board of Turkey, said in a statement, "The technological needs for our country and for the industry are increasing day by day. This is why it is of great importance for both fiber infrastructure and new generation networks to become widespread. The dynamism that comes to the industry with 4.5G shows us the increasing need in this field. With 5G, the beginning of an era which will surpass the virtual dimension is coming. It is important to see 5G as a need. On the path to 5G, we must prioritize increasing accessibility, redefining network abilities and developing new business models in vertical industries with investment in infrastructure."
Gediz Sezgin, Turkcell's general manager responsible for network technologies, added, "We achieved a first in Turkey by carrying out the first speed test using 5G equipment. The speed we have reached today and the record we have broken are a striking example of the progress we, as Turkcell, have made in 5G in a short period of time. With new technologies, Gigabit level data transmission, low latency and reliable performance, we will continue to provide innovative services and solutions to our customers by developing high efficiency and high-capacity solutions that we will achieve with 5G technologies. "
Search the Cabling Installation & Maintenance Buyer's Guide for companies, new products, press releases, and videos: