Greenlee adds air time and spectrum analysis to AirScout WiFi test system
AirScout Live Pro, now with air time and spectrum analysis, provide a visual representation of real-time congestion, interference, and channel utilization.
Jul 13th, 2018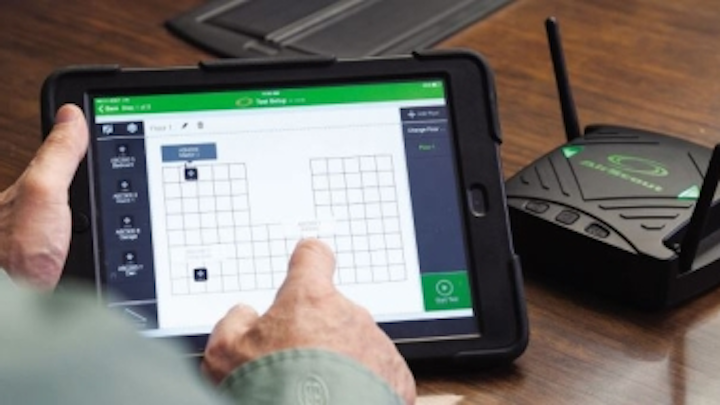 Greenlee recently announced the addition of Live Pro to its AirScout line of wireless analyzers. "This easy-to-use, engineering-grade WiFi troubleshooting tool gives technicians the ability to quickly and easily identify the root cause of performance issues on 2.4- and 5-GHz wireless LAN networks," Greenlee said. "Utilizing air time analysis and spectrum analysis, AirScout Live Pro produces a live depiction of channel congestion, interference and utilization."
Mark Barmettler, Greenlee Communications' general manager, stated, "The market demands a highly capable yet easy-to-use WiFi troubleshooting tool that delivers detailed, real-time feedback of wireless network performance. AirScout Live Pro delivers the advanced testing capability technicians need while highlighting important details and removing the clutter to deliver unparalleled ease of use and effectiveness."
The company added that the addition of spectrum analysis to AirScout Live Pro offers technicians a real-time graphical representation of WiFi and non-WiFi signals that can degrade network performance. This allows technicians to quickly troubleshoot and analyze network interference and utilization trends over time. When used in conjunction with air time analysis, Air Scout Live Pro can accurately pinpoint critical issues preventing reliable WiFi.
"Air time analysis provides a live, granular multidimensional view of network utilization, giving technicians the ability to immediately troubleshoot congestion issues," Greenlee said. "Air time analysis depicts a detailed view of utilization across the entire channel, at the access point level and at the individual client level."
This new release adds to AirScout Live's capabilities, which include 802.15.4 optimization, in-range AP characteristics including signal strength and security to radio capability, and rogue access points.