Sticklers introduces fiber-to-the-antenna, fiber-to-the-home cleaning kits
The Sticklers FTTA kit cleans more than 1500 ODC and LC connections. The FTTH kit cleans more than 1800 SC, FC, ST and E2000 connections.
Jul 10th, 2018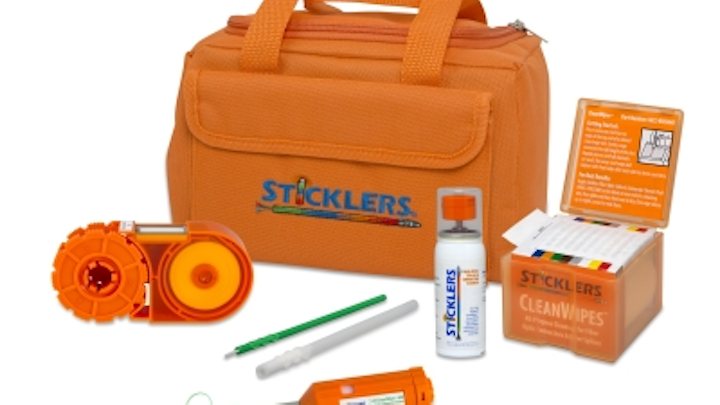 Sticklers recently introduced two new cleaning kits—one for fiber-to-the-antenna (FTTA) connections and one for fiber-to-the-home (FTTH) connections. The company says the kits provide technicians "all the tools necessary to ensure perfectly clean fiber."
Speaking about FTTA networks, Sticklers said, "It is important to clean every endface, both sides, every time they are installed, tested or reconfigured, whether that is at base level or on top of the tower." It added, "The same is true for FTTH. If fiber is not kept contaminant-free, it will severely affect the long-term reliability of any network."
Brian Teague, fiber-optic cleaners product manager for Sticklers, said, "Having listened to our customers, we have put together these tailor-made fiber-optic cleaning kids designed specifically for FTTA and FTTH networks. Sticklers Fiber Optic Cleaning Kits give installers a one-stop solution to perfectly clean fiber with a full line of affordable, superior cleaning products. The FTTA kit contains enough materials to clean more than 1,500 FTTA connections. The FTTH kit cleans over 1,800 connectors. This, however, is not the only benefit. Each kit includes nonflammable, nontoxic and globally GHS-compliant cleaning fluid packaged in a hermetically sealed container. This means the kit can be shipped anywhere in the world, by ground, air or sea, without restrictions. It is a truly globally acceptable kit for cleaning fiber quickly and effectively."
Teague further explained, "The kits are perfect for a range of cleaning requirements, whether that is bulk cable in the field, or pigtail assemblies being spliced. Each kit contains the right combination of cleaning products to do the job right the first time and avoid costly repair visits."
The Sticklers FTTA Cleaning Kit (pictured above) focuses on 1.25mm ODC and LC connectors. Each kit contains fiber-optic cleaning fluid for wet-dry cleaning; a box of 1.25mm and 50-in Termini CleanStixx fiber-optic cleaning swabs; 1.25 CleanClicker 400 "mini-clicker," which enables cleaning of ports and jumpers; Cassette CleanClicker Wheel, which replaces large, heavy and expensive tools; and Clean Wipes 640 Optical Wipes, for cleaning more than 00 duplex endfaces.
The Sticklers FTTH Cleaning Kit (pictured below) cleans SC, FC, ST and E2000 connectors, and "cleans the most contaminated ports," the company noted; 2.5mm CleanClicker push-to-clean tool, for lightly contaminated ports and jumpers; Cassette CleanClicker Wheel cleaner; and Clean Wipes 640 Optical Wipes, both for cleaning jumpers.