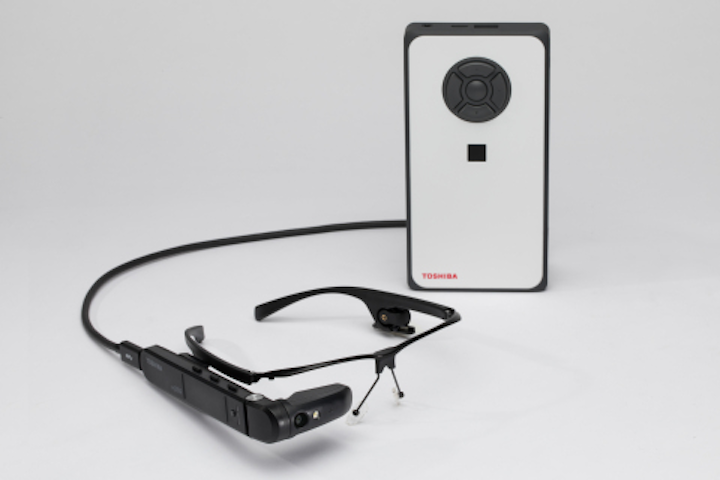 On May 30, Toshiba's Client Solutions Division (CSD), a division of Toshiba America Information Systems, Inc., announced a strategic relationship with Ubimax, as well as the full integration of the Ubimax Frontline application suite on Toshiba's dynaEdge AR Smart Glasses. Toshiba demonstrated the Ubimax Frontline applications on its AR smart glasses during AWE 2018 in Santa Clara, CA.
"We are excited to work with Ubimax and its industry-leading expertise in wearable computing and augmented reality which will benefit our customers and increase the mainstream adoption of the category," said Carl Pinto, vice president, marketing and engineering, Client Solutions Division, Toshiba America Information Systems, Inc. "The combination of our dynaEdge AR Smart Glasses and the Ubimax Frontline applications create an AR solution capable of improving productivity for the logistics, manufacturing and maintenance sectors."
The two organizations collaborated to ensure their solutions functioned and integrated seamlessly into an enterprise's existing Windows-based work environment. The Ubimax applications are the company's first applications to be ported over to a Microsoft Windows environment. "We are delighted to be chosen as a global strategic partner for Toshiba," said Percy Stocker, President, Ubimax, Inc. "We strongly believe in the combination of Toshiba's longstanding technical and B2B customer support expertise and our own market leading wearable computing solution experience to jointly increase acceptance and focus on the uptake of wearables in the industry."
Toshiba's dynaEdge AR Smart Glasses is the company's first completely wearable AR solution to combine the power of a Windows 10 Pro PC with the performance-based feature set of industrial-grade smart glasses. Toshiba's new AR solution includes the dynaEdge DE-100 Mobile Mini PC, dynaEdge AR100 Head Mounted Display (HMD), Lens-Less Frame, USB-C Cable with Cable Clip and carrying case. Toshiba AR solution has a starting price point of $1,899.99.
Toshiba developed its dynaEdge AR Smart Glasses solutions to meet the performance demands of enterprise workplaces through the adoption of 6th Generation Intel Core M Processors, Intel HD Graphics and Intel Dual Band Wireless-AC 8260 802.11ac Wi-Fi. These technologies allow enterprises to integrate the Toshiba AR solution into their existing infrastructure.
Designed for enterprise customers, Toshiba's new AR solution provides capabilities including Document Viewing, Live Video Calls, See-What-I-See, Photo/Video Capture, Alerts/Messaging, making it ideal for a variety of uses cases, including Maintenance, Remote Expert, Manufacturing, QA Inspection & Audit, Logistics, Training and Knowledge Transfer.
Toshiba also recently announced the availability of its Developer's Kits for customers or application developers looking to design specialized software for the smart glasses. Toshiba will offer Developer's Kits with two different configurations – Basic and Performance to best meet a variety of industrial applications with pricing starting at $2,399.99. Customers interested in purchasing the dynaEdge AR Smart Glasses or Developer's Kits should contact their Toshiba sales representative or email the company at smartglasses@toshiba.com.