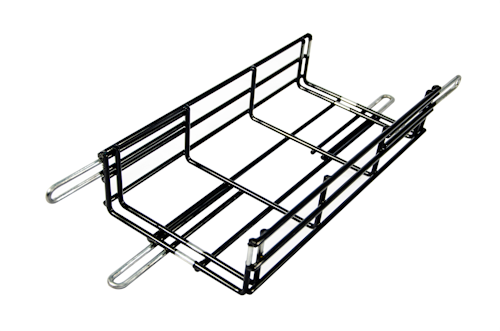 https://cablemgr.com/
Wiremaid Products Corp. introduced its "Extended Loop" Cable-MGR CM20 at this month's 2019 BICSI Fall Conference & Exhibition (Sept. 30- Oct. 3) in Las Vegas. The Cable-MGR CM20 defines a patented one-tool cable tray system, designed to saves time, materials, and money through its full line of prefabricated turns and bends, optimized to give contractors extra flexibility during installations.
Per a Wiremaid product summary, "The CM20 is the contractor's only cable tray system for completing a quality job up to 400% faster than the typical field-modified cable tray. This is possible as the CM20 Cable Tray is a prefabricated tray that has connecting loops, which maintain UL Listing. By extending the connecting loop, if there is a calculation error when installing the tray, the tray can be spaced out to fill the calculation gap. When installing CM20, the whole job can be completed by one person. It really is that easy to install a cable tray in the field," contends the manufacturer.
The new Cable-MGR product is intended for use in new construction and alteration sites, or can be used as an exposed design feature, due to the ability of the tray to be powder coated any color. These UL Certified prefabricated cable trays are self-grounding and maintain bonding and continuity, and as customers never have to cut or bend them, they never lose UL certification. Laying out the tray requirements is easy, with BIM and CAD files available.
"Customers have told us they like the peace of mind the extended loop will provide them, it reduces any shortfall of cable tray that may occur on-site. The extended loop gives extra flexibility during installation should this be needed. For over 10 years our patented tray has made the job of the electrical contractor easy. They offer a quality product to their client, it saves them time and money and the trays protect the wires better over other typical field modified tray," comments Todd Finke, National Sales Director for Wiremaid.
Notable key features of the Cable-MGR CM20 prefabricated cable tray system are as follows:
-- Comes in a range of sizes and powder coated colors.
-- Straight section trays (0.187) and a grid pattern of 2" x 4" and available in standard widths of 2", 4", 6", 8", 12", 18", 24" and 36".
-- Lengths can be ordered in 1', 2', 5', 8' and 10' with a depth/height of either 2", 4" or 6".
-- Prefabricated fittings include Reducers, 45 Degrees, T, L, 4-way Fittings, Elevation Changes, Waterfalls or any custom fitting in any angle or size customers require.
Custom made in Florida, USA, Wiremaid notes its Cable-MGR CM20 maintains UL Classification with no need to bend or cut the trays. A full line of accessories is also available. All connection hardware is included in the tray cost. Delivery times average 5 – 15 business days from order to finished product. For more information, visit: www.cablemgr.com.