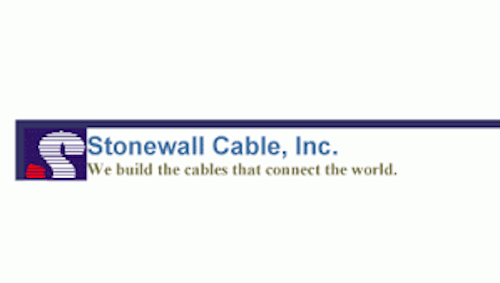 Stonewall Cable, Inc. (Rumney, NH) has announced its celebration of 30 years in the cable manufacturing business. Founded in 1985, Stonewall has established itself as a premier manufacturer of quality, custom communications cables, specializing in industrial, harsh environment and government/military applications.

Cables manufactured by Stonewall Cable are utilized by some of the world's most well-known companies, such as Boeing, Lockheed Martin, Raytheon, General Dynamics, BAE Systems, Honeywell, Google and Disney, and are used for a wide range of precision applications from the Event Horizon space exploration program to Super Bowl broadcasts, according to a press release.

Today, Stonewall Cable says it is continuing to grow and adapt to industry demands, offering a diverse array of the cabling industry's latest technologies, such as OM4 fiber-optic cables and high speed Category 7 networking cables. The company asserts that it has surpassed the standards of a typical cable manufacturer by offering built-to-order custom cables, lifetime warranties, ISO 9001 certification, IPC certified staff, fast turnaround times and the highest quality materials.

"Stonewall has always tried to judge our success by the number of quality, long-term positions we can create," comments Jeffrey Emery II, member of the board of directors and long time engineer at Stonewall Cable, Inc. "We keep our eye on stable, steady growth, and providing a positive and rewarding work environment. As we grow, we make an effort to hire from the community, train in-house, and promote from within the company. We rely on our family of hardworking, dedicated individuals, and the credit for our success really belongs to all of us."

Stonewall Cable recently celebrated its 30th birthday with a company-wide event, where it paid recognition to employees that have been with the company for over 5, 10, 15 and 20+ years. To learn more visit www.stonewallcable.com or call 800-525-3303.