BSRIA: Global structured cabling market will exceed $8B by 2020
Data center cabling will grow from $1.1 billion in 2012 to $1.6 billion in 2020, the researcher says, buoyed by mobile data use and businesses adopting aaS models.
Sep 11th, 2013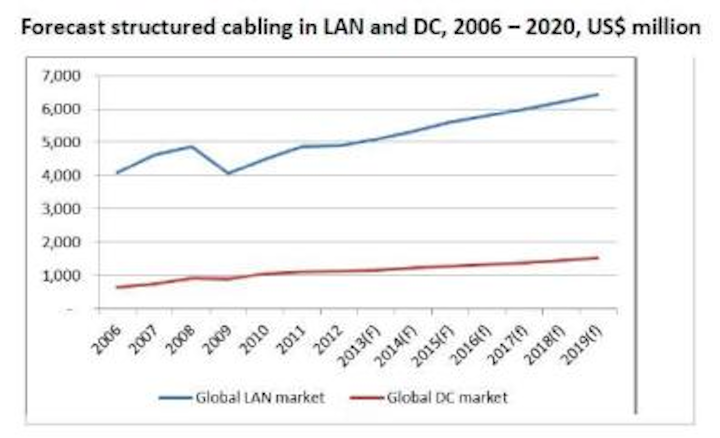 UPDATE - SEPTEMBER 20 - ARTICLE HAS BEEN UPDATED AND CORRECTED TO INCLUDE MARKET NUMBERS THROUGH 2020, WHICH WILL EXCEED $8 BILLION. PREVIOUS VERSION OF THIS ARTICLE LISTED 2019'S NUMBERS AS 2020'S.
A newly released "hot topic study" from BSRIA charts the global structured cabling market through the year 2020, concluding that by then the total market will exceed $8 billion. The market totaled $6 billion in 2012, BSRIA says, and will chart a course of 4-percent annual growth through 2020.
"The structured cabling market is facing a turbulent time," BSRIA said when announcing the study's availability. "Structured cabling in data centers continues to move toward the use of fiber. The number of smaller data centers that mainly use copper will decline as the penetration of cloud services increases and outsources become more prevalent." BSRIA's study graphs data center cabling and enterprise LAN cabling separately, and combines the two to arrive at the numbers discussed here. About LANs, BSRIA added, "The number of outlets per desk and number of workstations will decline, but growth in emerging markets as well as the use of Ethernet networks to connect and even power other devices will have a positive impact on the market."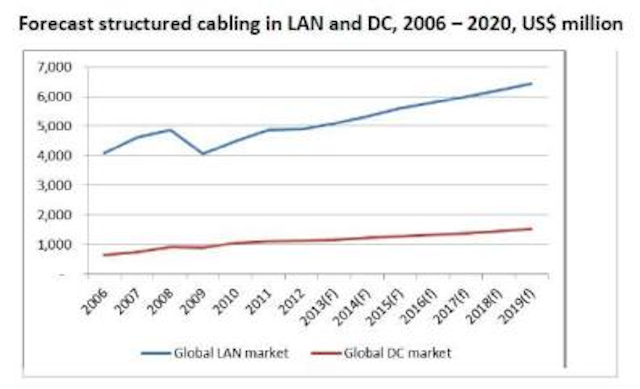 BSRIA cites the following key findings from its study.
The global structured cabling market is expected to continue to grow, from $6 billion in 2012 to $8.3 billion in 2020.
Cabling in data centers accounts for $1.1 billion in 2012 and is expected to grow to $1.6 billion in 2020. The increasing use of smart phones, tablets and laptops and the need for file sharing, networking and instant access will massively increase the need for data storage and speed. Business will increasingly shift from buying IT products to purchasing infrastructure-as-a-service, and software-as-a-service. Both trends will boost the need for storage and increase the demand for data center capacity.
Significant growth in WiFi traffic is expected. Small cell and carrier WiFi deployments are expected to carry more than 60 percent of mobile data traffic by 2020. Convergence will increase and more structured cabling will be used to wire access points, IP cameras, building management systems, access controls, etc. Overall cabling in LAN is expected to grow from $4.9 billion in 2012 to $6.7 billion in 2020.
The study provides figures for cabling sales by region, LAN and data center. It includes an overview of the key elements that will have an impact on the structured cabling market long-term. The study quantifies the sales of cabling products by developed and emerging markets for LANs and data centers, up to 2020. It also provides insight into the factors that suppliers and the channel should consider when carrying out strategic planning, BSRIA says. Its price is £2,500. More information is available from BSRIA's Scott Taylor: Scott.Taylor@bsria.co.uk; tel: +44 1344 465 642.