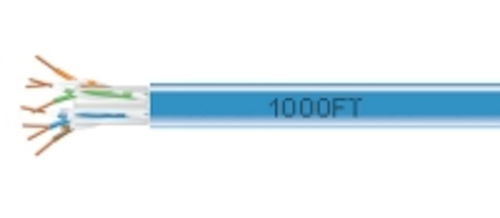 Black Box (NASDAQ: BBOX) announced that the company now offers what it considers the largest selection of HDBaseT-recommended cables in the industry. The cables include the company's GigaTrue Cat 6 and GigaBase Cat 5e bulk cables. Black Box is also a newly inducted member of the HDBaseT Alliance at the Adopter level.

Users can choose from 72 different cables: shielded or unshielded with PVC or plenum jackets, in nine different colors.
According to the company, to be designated "Recommended" for use with HDBaseT, all cables passed testing by the HDBaseT Alliance. Black Box also puts the cables through independent third-party ETL testing. The unshielded cables are ETL Verified for component-level performance and are also ETL Verified as part of the company's end-to-end channel solutions. In addition, Black Box cables are UL Listed, and the company regularly puts its cables through burn tests to ensure compliance with industry standards. The cables are also guaranteed for life.

Customers easily can find the exact cable they need with the company's online cable selector at blackbox.com/go/Configurators.

For additional information, visit www.HDBaseT.org.