Cat 6, 5e cabling can support 5-Gbit/sec transmission thanks to new technology
Aquantia offers 2.5- and 5-Gbit/sec PHYs, aimed at supporting 802.11ac and other applications over the installed base of Cat 6 and Cat 5e.
Oct 8th, 2014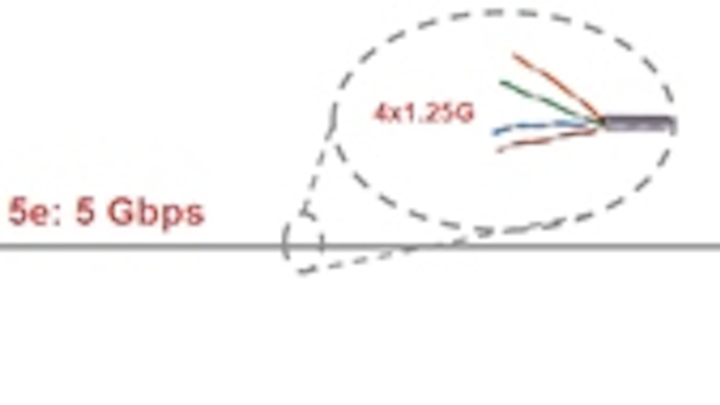 This week Aquantia announced PHY (chipset) technology that enables 2.5- or 5-Gbit/sec data rates over twisted-pair copper cabling; the company says the new technology has been shown to deliver 2.5- or 5-Gbits/sec over Category 5e and Category 6 cabling. In an interview with Cabling Installation & Maintenance, Aquantia's vice president of sales and marketing, Kamal Dalmia, explained that the maximum frequency used to deliver 5 Gbits/sec is 200 MHz—aligned with the upper limit for which Category 6 cabling is certified. Dalmia added, "In our testing with real silicon and real cables, we have found that 5G runs on 100 meters of Cat 5e cables. It will be up to the OEMs and cable industry how they resolve the difference between an old spec [Category 5e's 100-MHz upper limit] and capabilities of modern silicon."
The technology is called AQrate; when announcing it, Aquantia explained it "enables the new generation of 802.11ac wireless LAN access points, enterprise switches and client devices to operate at unprecedented speeds. The products were first sampled in late 2013 and are currently in production."
The company added that it foresaw "the enormous potential for deploying next-generation 802.11ac APs on legacy infrastructure" when it devised AQrate to transmit at 2.5- and 5-Gbits/sec over as much as 100 meters of Category 5e cabling. "AQrate also integrates Power over Ethernet technology, which is a critical feature in WLAN access point deployments," the company noted.
The AQrate PHYs combine 2.5-Gbit and 5-Gbit Ethernet, as well as IEEE-compliant 10GBase-T, 1000Base-T and 100Base-TX, for transmission over up to 100 meters of twisted-pair cabling. AQrate-based products are backward-compatible with legacy Gigabit Ethernet and Fast Ethernet products, which the company said allows for gradual upgrade of equipment.
In the interview with Cabling Installation & Maintenance, Aquantia's Dalmia stated that 802.11ac-based wireless LANs are the primary initial target for AQrate PHYs, but the technology's potential application space is wider. Certainly enterprise switches are an initial target, coinciding with 802.1ac access points. But Aquantia also is targeting network devices including IP security cameras, digital signage, and indoor as well as outdoor WiFi and small cell devices. "Any electronic equipment that has been using Gigabit is a contender for this technology," he said.
Dalmia said that the promise of future-generation 802.11ac equipment achieving 6.7-Gbit/sec throughput actually bolsters the case for a 5-Gbit/sec PHY. That much-quoted 6.7-Gbit/sec speed is "radio throughput, not actual payload," he explained. The actual payload is approximately 25 percent less than that—or 5 Gbits/sec.
The company revealed it made the AQrate PHY available to switch and wireless-access-point OEMs in October 2013, and the technology had been in development for two to two-and-a-half years prior to that. "The technology is very mature at this point," Dalmia stated. No switch or access-point provider announced the inclusion of AQrate PHYs in their products alongside Aquantia's announcement, but Aquantia said it expects OEMs to make such announcements soon.
Xylinx announced it has incorporated AQrate technology into its All Programmable FPGAs [field-programmable gate arrays] and IP portfolios.
Aquantia's president and chief executive officer, Faraj Aalaei, commented, "With the introduction of AQrate, Aquantia proves once again that it has the unmatched ability to create technology disruptions and quickly deliver unique solutions to its customers. Riding on the back of our strong performance in the data center market, we are now adding the emerging enterprise and mobile-infrastructure market as a second strong leg to our exciting story. Ultimately, the AQrate technology has the potential to address a market of the size of the GbE ecosystem today, which is around 1 billion ports a year."
Bob Wheeler, principal analyst for networking at The Linley Group, noted, "The industry is gearing up for a massive upgrade of enterprise networks to handle the explosion of mobile computing traffic driven by next-generation 802.11ac access points. Aquantia has developed an enabling technology that can substantially increase network bandwidth without having to replace the massive amount of legacy Cat 5e and Cat 6 horizontal cabling used in most enterprise-campus networks. AQrate technology will be a welcome development for network administrators who are taking on the challenges of growing wireless LAN traffic."