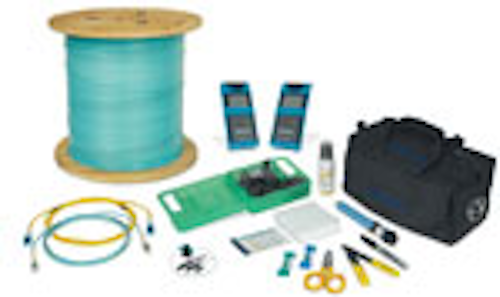 Extron Electronics' new line of fiber-optic cabling products - including cable, connectors, termination tools and test equipment - completes the company's line of fiber-optic products, it says. The cabling system joins Extron's existing line of extenders, matrix switchers and distribution amplifiers for audio, video (AV) and control signaling.
Plenum-rated, bend-insensitive fiber-optic cable as well as factory-terminated cable assemblies in various lengths are available in OM4 multimode and singlemode versions. The Fiber Optic Termination Kit and LC connectors enable fast and reliable termination in the field, Extron says. "To ensure system-wide reliability, use the FPM 101 fiber-optic power meter in conjunction with either the FLS 850 fiber optic light source for multimode cabling or the FLS 1310 fiber optic light source for singlemode solutions to measure optical power and loss throughout the fiber-optic infrastructure," Extron says.
The new additions to Extron's fiber-optic product line address several challenges often encountered in AV environments. Extron says its bend-insensitive fiber-optic cable is the first to be introduced to the AV industry. "These duplex, plenum-rated cables enable pixel-perfect transmission of AV signals in any intrabuilding environment and can be order preterminated in a variety of lengths, or as 2-kilometer bulk spools," the company notes. "The Quick LC connectors, termination kit and test equipment provide further installation convenience while ensuring optimal performance throughout the entire fiber infrastructure."
The company's vice president of sales and marketing Casey Hall says, "Integrators have traditionally been required to use an assortment of brands when sourcing fiber-optic cabling and termination equipment to complete an installation. With the latest additions to our fiber-optics line, they have the convenience of getting the entire range of fiber products from a single manufacturer, from extenders and matrix switchers to fiber cables and termination tools."
Visit Extron Electronics.