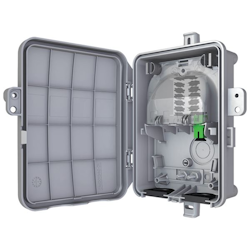 AFL
AFL has launched its OptiNID Duo, billed as an ultra-compact, yet flexible fiber-optic demarcation enclosure. The company says the enclosure integrates many routing, splicing and connectivity capabilities into its molded base, allowing multiple termination options for different applications.
The OptiNID Duo enclosure has the capability to house up to four SC simplex or LC duplex adapters, along with up to 18 single fiber or six mass fusion splices. The base of the enclosure houses an insert which incorporates fiber routing, splice tray, adapter plate and cable retention features.  
The OptiNID Duo also has several optional features, including a clear splice/security cover for protecting provider-side connectors, and a grounding plate for grounding armored or toneable drop cables.  
The enclosure is available with two different base cable entry options -- either a pair of U-shaped "drop-in" style grommets, or two half-inch ports allowing for a variety of different entry accessories.
The OptiNID Duo is a new addition to AFL's comprehensive line of FTTx products including hardened pre-terminated multiport terminals and drops, fiber distribution hubs, closures, field-installable connectors and more. Visit AFL's FTTx solutions page for more information. 
Tweets by CablingTweets