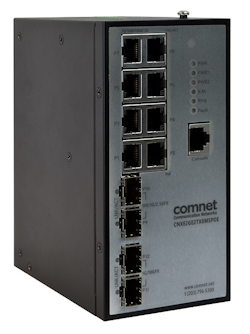 ComNet (Danbury, CT), a manufacturer of fiber-optic transmission and networking equipment, has introduced a new 12-port Gigabit managed Layer 2 switch that includes two 10GigE uplink ports designed for high-bandwidth usage requirements, such as smart cities and connected vehicle applications.
ComNet says its model CNXE2GE2TX8MSPOE managed Layer 2 switch features: eight dedicated 10/100/1000BASE-T(X) RJ-45 ports compliant with IEEE802.3af/at PoE; two dedicated 100/1000/2.5GBASE-X SFP ports; and two dedicated 1000/2.5G/10GBASE-X SFP ports.
The switch is designed to protect the network on which it is being used, offering multiple redundancy protocols to keep the network free from points of interruption. Power over Ethernet (PoE) compliant IEEE802.3af/at connectivity is provided over the eight copper ports. The PoE ports are capable of delivering 30 watts of power to all eight copper ports.
According to Andrew Acquarulo, ComNet's CEO and president, "The decision to expand our current switch offering was an easy one. As the demand for ComNet products increases worldwide, being able to provide a more diverse product offering became evident. We've seen it over the many years we've been manufacturing Ethernet products -- Fast Ethernet, Gigabit Ethernet and now 10 Gigabit Ethernet. Whatever the throughput standard, ComNet will lead in commercialization for the markets we compete in," Acquarulo added.
Per a company statement, "High-bandwidth applications are getting more prevalent. With the use of higher definition and megapixel cameras being used and more and more locations under surveillance (smart cities), these 10Gbps switches are being called for use in many more installations. ComNet has always tried to stay ahead in product development and the CNXE2GE2TX8MSPOE is another example. "
ComNet maintains that it has always enjoyed an advantage for use in commercial and government markets, due to its wide ranging product offering of USA-made products, which are warrantied for life.
"ComNet's goal from day one has been to be a smart and secure choice for transmission products. Our position is that if you are concerned about the long-term success of your application, choosing ComNet ensures it," concludes Skip Haight, ComNet's VP of marketing. "Developing this switch will continue to differentiate us from our competitors."
ComNet, part of ACRE, offers an extensive line of fiber-optic, copper and wireless video and data transmission equipment that the company says is uniquely designed to meet the needs of the security, intelligent transportation system, utility and industrial markets. Call direct 203-796-5300 or email info@comnet.net for details, or visit www.comnet.net.