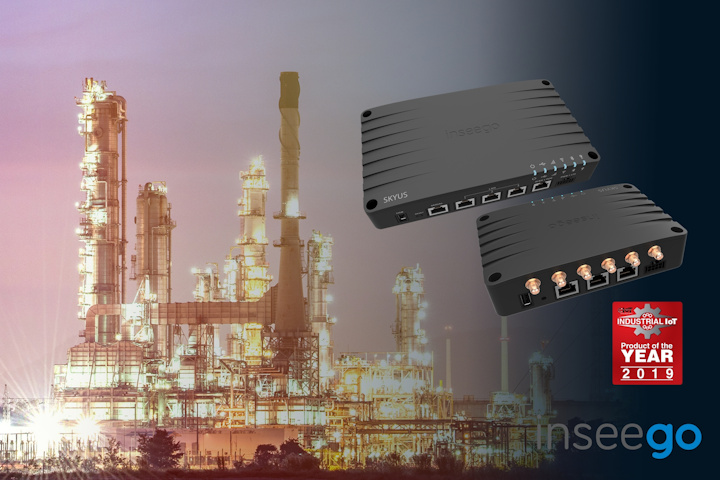 Inseego Corp.
The Skyus 500 gigabit IIoT 4G LTE-Advanced edge router by Inseego Corp. (NASDAQ: INSG), a pioneer in 5G and intelligent IoT device-to-cloud solutions, has been named "Industrial IoT Product of the Year" by IoT Evolution, earning this respected award as of one of the best, most innovative products powering the Industrial Internet of Things (IIoT).
The Skyus 500 is billed as "the only full-featured IIoT router that enables LTE-Advanced Pro peak speeds of up to 1.2 Gbps, best-in-class security, Power over Ethernet (PoE), WiFi, Bluetooth, and industrial-grade design." The unit's flexible, future-proof architecture also provides an easy path to 5G NR. The product family includes a compact and configurable option, the Skyus 300, ideal for space-constrained applications. The Skyus family of IIoT routers is powered by Inseego's MiFi iQ technology platform, which combines enterprise-grade security with innovative antenna design and algorithms optimized for different use cases.
With a rugged design that conforms to IP64 and MIL-STD 810G military-grade specifications, the Skyus 500 and 300 are built for maximum reliability in demanding environments. PoE capability simplifies complex deployments by delivering a power source for external devices that require a network connection, such as camera systems. "It is my pleasure to recognize the Skyus 500, an innovative solution that earned Inseego the 2019 Industrial IoT Product of the Year Award," said Rich Tehrani, CEO, TMC. "I look forward to seeing more innovation from Inseego in the future."
Solis Energy, a manufacturer and provider of outdoor power systems for the industrial automation and control, transportation, telecommunication, security, and government markets, uses the configurable model in the Skyus 300, in Solis' most recent partner solution with Axis Communications, a global leader in network video.
"We're committed to providing reliable, innovative, and flexible solutions for customers to take control of their outdoor power requirements. Our latest partner solution for critical monitoring applications includes Axis' rugged outdoor surveillance system for remote deployments that operate in challenging environments — near pipelines, flare stacks and power grid substations — so we need routers that can withstand harsh conditions and send video reliably," said Robert Reynolds, President at Solis Energy. "The Skyus routers and Axis' surveillance cameras have answered the call and the integration has been flawless."
To learn more about Skyus gateways and routers, visit https://www.inseego.com/iot-gateways/.