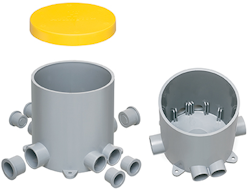 Arlington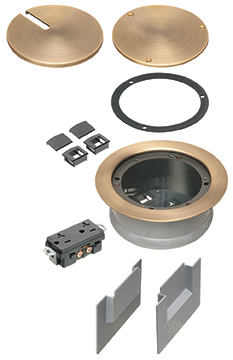 FLBC5540AB Cover ComponentsArlingtonArlington's FLBC5500 5.5" non-metallic concrete floor box features multiple slots for positioning of low voltage dividers, and multiple conduit hubs and plugs. Made of heavy-duty plastic, the floor box fits six conduit hubs, four plugs, and multiple options for positioning the two low voltage dividers in the box.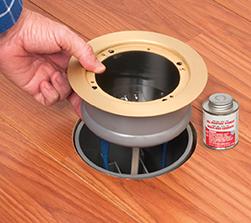 FLBC5540MB Cover into FLBC5500 boxArlingtonDesigned for use with this box, the company's FLBC5540 series recessed cover kits deliver a flush-to-the-floor cover installation. Features include two low voltage openings, an ultra-thin stamped steel flange, plated or powder-coated zinc covers, and a recessed device that reduces tripping.
MORE NEWS:  Arlington Industries defeats Bridgeport Fittings' patent challenge
The kit's UL Listed 20A tamper-resistant decorator-style receptacle is available in six finishes/colors (plated in brass, nickel, or antique bronze finishes; power-coated in black, brown, or light almond).
Per the company, the new concrete floor box and cover kits with recessed outlets offer a cost-saving and easy, flush-to-floor installation in new concrete floors.
Download the products' specification sheet from Arlington.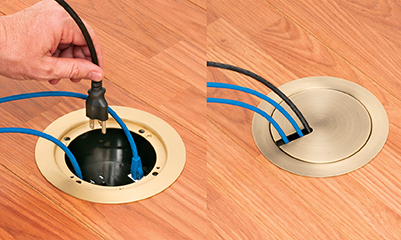 Plug-in Slotted CoverArlington