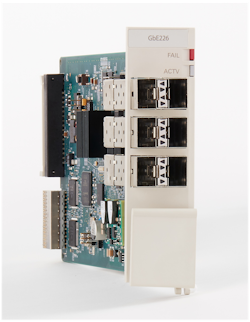 Tellabs
Tellabs, a specialist in broadband access platforms for telecommunications, announced that a prominent North American service provider has deployed the Tellabs 1000 Multiservice Access Platform (MSAP) Feature Package 17.0 (FP17) and the Tellabs 10 Gigabit Ethernet 226 (GbE226) plug-in card, in conjunction with Coarse Wave Division Multiplexing (CWDM) systems that maximize the utilization of scarce fiber facilities in the service provider's outside plant network.
Per a Tellabs press release, "The purpose of this deployment is for the network operator to utilize CWDM, and the GbE226 card, to gain bandwidth relief at their fiber-constrained remote sites. The CWDM configuration combines the GbE226 10-gigabit uplink, (that aggregates multiple 1-gigabit connectivity from each Tellabs 1000 shelf), along with the existing OC12 Time Division Multiplexed (TDM) transport traffic. The CWDM device, that is installed in existing Tellabs remote broadband cabinets, provides fiber optimization by transmitting the OC12 (1310 wavelength), and the GbE226 10 gigabit (1471 wavelength) across a single fiber cable."
Tellabs notes that its new GbE226 card has two (2) 1Gbps/10Gbps Ethernet enhanced small form-factor pluggable (SFP+) ports, and four (4) 1Gbps Ethernet small form-factor pluggable (SFP) ports, "that provide network operators with the potential of increasing revenue using [the] embedded investment of their deployed access network, and helps conserve cost by minimizing fiber use, and optimizing switch/router ports."
"The beauty of this configuration is that it cost-effectively allows TDM and Ethernet transport, from the OC12 and GbE226 cards, to share the same fiber cables, which fixes the problem of bandwidth exhaustion at fiber constrained locations," explains Mike Kavanagh, Tellabs' vice president of broadband sales.
Learn more about the Tellabs 1000 MSAP GbE226 plug-in card.