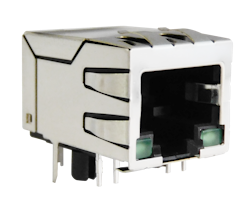 Stewart Connector
Stewart Connector (Glen Rock, PA), a Bel group company (NASDAQ: BELFA and BELFB) and manufacturer of high-speed datacom connectors, has introduced new single and multiport RJ45 connectors to support 2.5G Base-T Ethernet communications.
The company says the comprehensive new product line includes configurations for use in most 2.5G enterprise, data center, IoT, and wireless applications.
According to Stewart, the new 2.5G connectors "were developed with today and tomorrow's RJ45 requirements in mind, delivering a high speed, small form factor and PoE capable connector for use in networking equipment, IoT devices, servers, printers, and new emerging applications."
Stewart emphasizes that the new RJ45 connectors are optimally designed to address cross-talk and return loss issues that are common in 2.5G applications. The connectors also support PoE applications from 15W up to 100W, which is often a requirement for emerging IoT footprints.
Stewart Connector's distribution partners Digi-Key, Mouser and Newark are offering this complete line of 2.5G RJ45 connectors. All single and multiport configurations are fully shielded; configurations with LED options are available.
For more information including specific part numbers, download the Stewart Connector 2.5G Series Jack brochure (PDF).