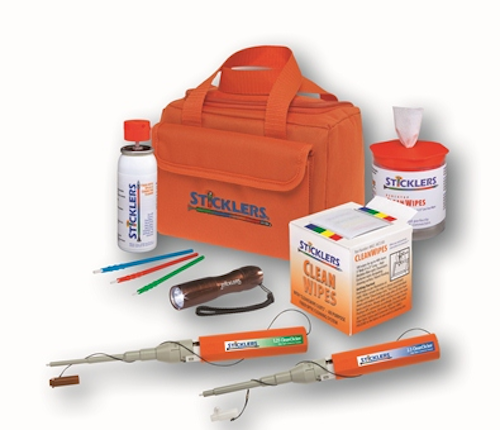 MicroCare Corp. recently presented its enhanced line of Sticklers fiber optic cleaning products at the OSP Expo, held September 2-3 in Denver, CO. Specifically, the company featured its new Sticklers High Volume Fiber Optic Cleaning Kits, which contain the Sticklers Clean Clicker fiber optic connector cleaners. The kits also contain "all the equipment needed to clean thousands of SC, FC, ST, E2000, LC and MU connectors—both unmated and in bulkhead—all in a handy, rugged, easy-to-find woven bag," the company noted.
"Each kit contains two push-to-clean CleanClicker fiber optic connector cleaners along with the necessary cleaning fluids, lint-free wipes and Stickler CleanStixx endface cleaners," MicroCare continued. "Each kit contains enough materials to clean more than 2,300 connectors. The kits are available in commercial and military-ready versions."
Dan Sinclair, Sticklers national sales manager, stated, "One of the biggest innovations in the Sticklers product line is the emphasis on speedy wet-dry fiber optic cleaning. Wet-dry cleaning eliminates static from the endfaces, resulting in cleaner and trouble-free networks." The Stickers High Volume Fiber Optic Cleaning Kits contain all the products required for wet-dry cleaning.
Sinclair continued, "The fast-drying, nonflammable Sticklers cleaning fluid dissipates the static charge, effortlessly unlocks any particulate on the endfaces, and thereby outperforms all other cleaning products."