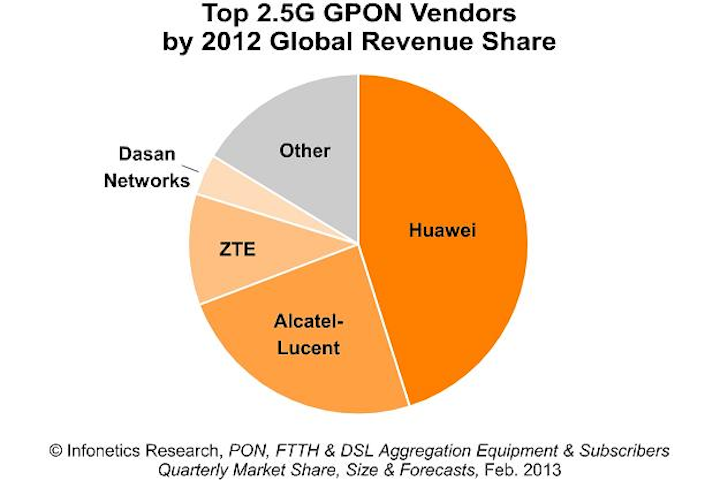 Market research firm Infonetics Research released preliminary analysis from its 4th quarter 2012 (4Q12) PON, FTTH, and DSL Aggregation Equipment and Subscribers report.
"2012 was a challenging year for fixed broadband equipment, with DSL taking the biggest hit as China continues its transition to FTTH," comments Jeff Heynen, directing analyst for broadband access and pay TV at Infonetics Research.
Heynan adds, "But despite the difficult road for DSL, VDSL remains a real bright spot, expanding among operators in Western Europe, North America and Latin America. Vectoring solutions and a long-term path to G.Fast are driving sustained interest in VDSL2."

According to the latest Infonetics analysis, global sales of broadband aggregation equipment (DSL, PON, Ethernet FTTH) fell 6% in 4Q12, to $1.56 billion, as a result of declines in spending on DSL equipment in EMEA and EPON gear in Asia.
For the full year 2012, worldwide spending on broadband aggregation equipment was down 10% to $6.65 billion, with DSL equipment taking the largest hit, plunging 26%.
Meanwhile, the 2.5G GPON equipment segment is up 30% in 2012, led by China, where a dramatic swing in technology choice by China Telecom and China Unicom is shifting investment from EPON to GPON for FTTH deployments.

Related: Infonetics: Optical network market will grow in 2013

"GPON equipment had an outstanding year, with China again contributing the most revenue and EMEA and Latin America providing pockets of strength," added Infonetics' Heynen.

Also according to the report, VDSL port shipments grew by almost a quarter in 2012, reaching 23 million worldwide, as Belgacom, KPN, British Telecom, France Telecom, Deutsche Telekom, Turk Telecom, and Telekom Austria deploy VDSL2 to keep pace with cable DOCSIS 3.0 rollouts.
In 2012 in the overall broadband aggregation market, perennial leader Huawei lost some revenue share to its top competitors, and Alcatel-Lucent pulled ahead of ZTE for 2nd place.

The report notes that the top 3 overall vendors also lead the growing, aforementioned 2.5G GPON equipment market, "with Dasan Networks rounding out the #4 spot."
The full report will be published on March 4.
Infonetics' quarterly broadband aggregation report provides worldwide and regional market size, vendor market share, forecasts, analysis, and trends for 1.25G, 2.5G, and 10G EPON, 2.5G and 10G GPON, FTTH, FTTB, PON, and DSL aggregation equipment. The report also tracks FTTH, FTTB+LAN, and DSL subscribers.
Companies tracked include ADTRAN, Alcatel-Lucent, Calix, Dasan, ECI Telecom, Fiberhome, Fujitsu, Genexis, Hitachi, Huawei, Iskratel, Mitsubishi, Motorola, NEC, OF Networks, PacketFront, Sumitomo, Tellabs, Ubiquoss, Zhone, ZTE, ZyXEL, and others.
Infonetics' Jeff Heynen will present a Client Conference Call on Friday, March 15, at 11:00 AM ET for a live broadband access market recap. Log in to https://www.infonetics.com/cgp/login.asp?id=677 for password to join the call live or view on demand.