nCompass cabling-system alliance website includes ETL certificates, warranty info
The partnership between Legrand/Ortronics and Superior Essex includes end-to-end copper and fiber-optic structured cabling systems.
May 1st, 2013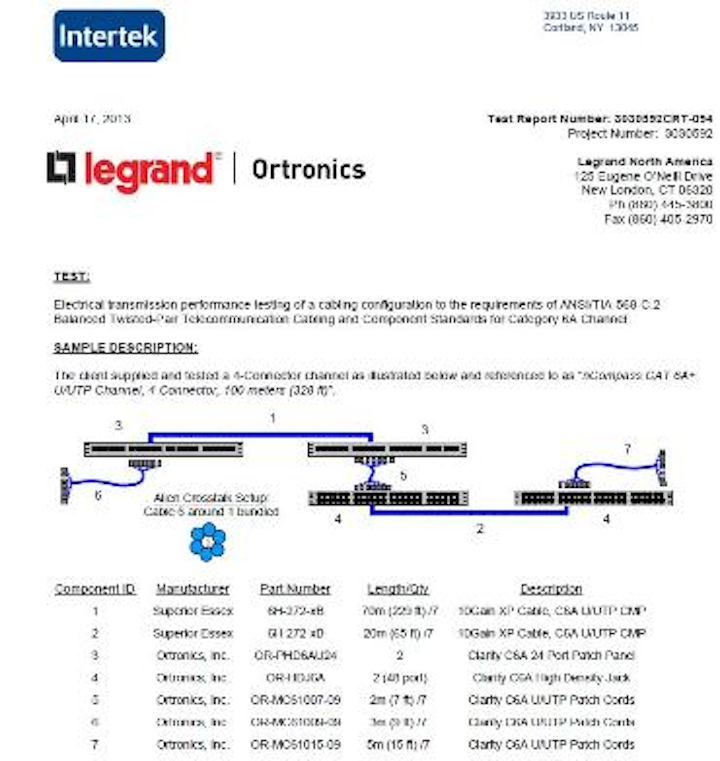 Since announcing the launch of the nCompass cabling-system alliance, Legrand Ortronics and Superior Essex have added information and supporting documentation to the alliance's website. Under the site's "Resources" tab, visitors can find ETL/Intertek certificates attesting to the nCompass systems' performance capability as tested by Intertek. Shown at the bottom of this page is a screen-capture of part of the first page of the ETL certificate for nCompass's Category 6A UTP 100-meter, four-connector channel.
The Resources section of the website also includes data sheets for the nCompass copper (Category 5e through 6A) and fiber-optic (OM3, OM4, OS1 and OS2) systems. Additionally, a copy of the lifetime limited warranty offered on nCompass systems is available for download.
When announcing the availability of these and other resources on the website, Legrand and Superior Essex said in a joint statement, "This alliance provides a national network of contractors, nationwide distribution, joint sales force and field engineers to ensure that customers are supported from the design phase through installation. Additionally, the joining of Legrand and Superior Essex solutions allows for a substantial energy-efficient network solution combining aisle containment, small-diameter cable, and patented passive airflow management."