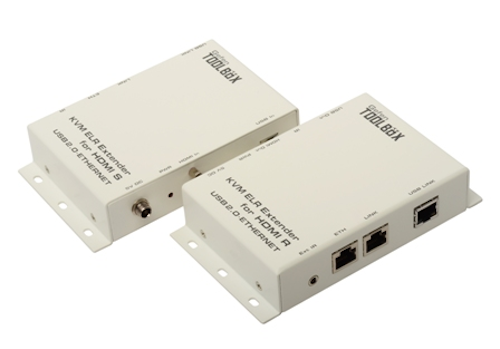 The Gefen Toolbox KVM Extra Long Range Extender allows laptops, PC media centers or any device using HDMI to connect to flat-panel displays or projectors at distances up to 100 meters using Category 5 cabling. Gefen says the extender sends 1080p full HD video with USB peripherals, Ethernet connectivity and infrared control over two Category 5 cables.
Gefen's president and chief executive officer Hagai Gefen explains, "You can extend hi-def video with your peripherals from a central location to wherever you wish to control them."
Complete keyboard-video-mouse (KVM) functionality enables users to operate a laptop, computer or video source from distances up to 100 meters. Sender and receiver units (shown at the bottom of this page) can be wall-mounted. Two USB ports on the receiver connect keyboard/mouse, printer, camera or any device using USB 2.0 connectivity.
The extender technology is based on HDBase-T specs.