German-made modular 40/100-GbE fiber system
OM3 and OM4 preterminated assemblies are part of tde's 40- and 100-GbE optical-infrastructure system.
Apr 29th, 2011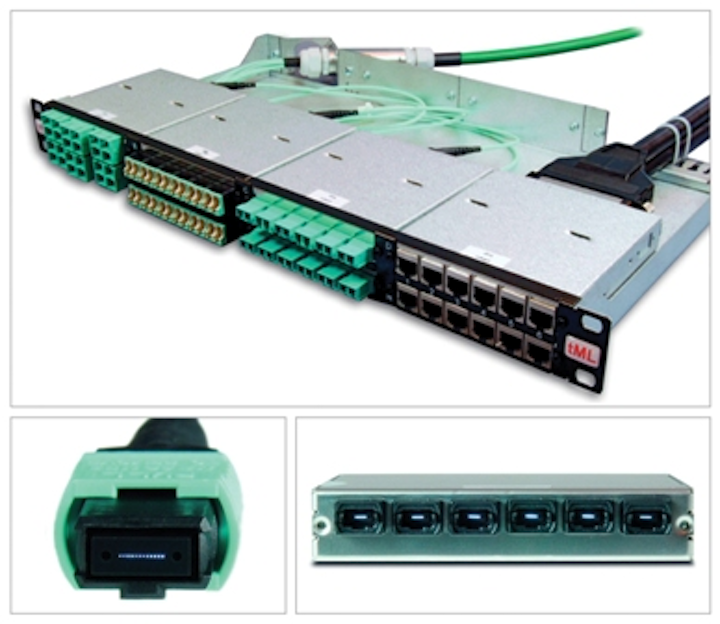 The German manufacturing, distribution and system-provider firm trans data electronic Gmbh (tde) has introduced a range of products to support 40- and 100-Gbit Ethernet optical transmission. The tML - tde Modular Link - system includes OM3 and OM4 assemblies with MPO connectivity. tde says its manufacturing methods produce low connector loss. "Even the technically demanding MPO/MTP connector comes with a typical connector loss of maximal 0.17 to 0.35 dB," the company says. This enables the tML system to meet the low loss budget of 1.9 dB required for 40/100 GbE.
The full tML system includes modules, trunk cable and rack-mount enclosures, tde says. They are all factory-tested. The rack-mount enclosure, shown in one of the photos at the bottom of this page, can house fiber-optic and twisted-pair modules. tde says the heart of the system is formed by the rear-mounted MPO/MTP and telco connectors, which enable the connection of at least six Gig or 10-Gig ports at once. For 40- or 100-Gbit Ethernet, the modules are replaced by front panels with MPo adapters. This allows 1,152 fibers in a single rack unit, tde points out.