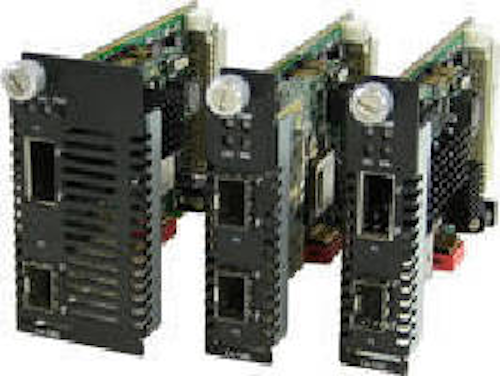 Perle Systems has extended its line of 10-Gigabit Ethernet (10-GbE) media converters with the addition of its C-10G unmanaged media converter modules. The company says the new 10-GbE media converters create a 10-GbE link that can be extended from 26 m up to 160 km in high density applications.

Related product: Media converter facilitates 10G to 40km

Installed in Perle's high-density MCR1900 media converter chassis, the C-10G modules transparently connect 10-GbE links over multimode or single-mode fiber. Each 10-GbE media converter comes with two pluggable transceiver ports that support fiber-to-fiber, copper-to-fiber or copper-to-copper media conversion. These ports allow for flexible network configurations to meet any requirement using a variety of 10G transceivers supplied by Perle, Cisco or other manufacturers of MSA-compliant SFP+ and XFPs.

"The demand for 10 Gig is being driven by companies who want their data centers equipped to take advantage of better performance and lower latency," says John Feeney, Chief Operating Officer at Perle Systems. "Perle's 10G media converters enable companies to exploit these benefits and extend them far beyond the standard 100-meter data transmission distance limitation."

Related story:Why invest in 10 -Gigabit Ethernet cabling?