Jacketed MPO splice-on connector
Sumitomo Electric Lightwave has expanded its Lynx2 CustomFit Splice-On Connector product line with what it says is the industry's first jacketed MPO ribbon splice-on connector.
Dec 13th, 2012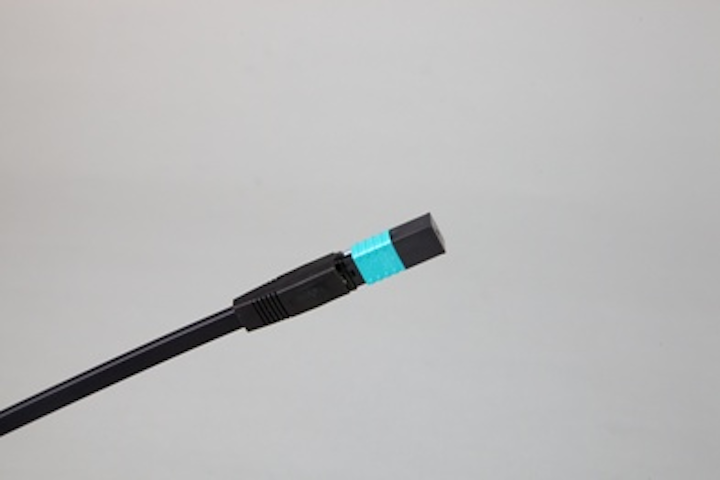 Sumitomo Electric Lightwave recently announced the expansion of its Lynx2 CustomFit Splice-On Connector product line to include "the industry's first jacketed MPO ribbon splice-on connector," the company said, "to meet the changing needs of data center, enterprise and communications networks."
The company added that its "decision to design and launch the Lynx2-MPO Ribbon Jacket splice-on connector addresses the growing network migration from 10 Gbits/sec to 40 and 100 Gbits/sec, and the subsequent accelerated use of optical-fiber ribbon cables that meet the larger fiber counts, real-time scalability, speed of installation, and cost efficiencies required for the migration."
Joshua Seawell, director of Sumitomo Electric Lightwave's Lightwave Network Products division, commented, "As the company to have designed and introduced the industry's very first MPO splice-on connector, we understand the importance of continuous innovation, ensuring that our customers have the latest and most advanced solutions that are vital for the success of their network."
Sumitomo Electric Lightwave further described the industry and technology evolutions that have given rise to the development of this new product: "As high-density network and data centers make the transition from single fiber and loose tube to the more compact optical ribbon cables for trunk cable and jumper applications, jacketed ribbon is the preferred choice to maintain protection of the fiber and tensile integrity. In the case of optical fiber ribbon trunk cables, furcation is used to provide the added fiber protection in patch panels since the cables are often re-entered for network moves, adds and changes [MACs]. The Lynx2-MPO Ribbon Jacket twelve-fiber splice-on connector facilitates the quick and easy connectivity of the jacketed ribbon cables and jumpers by allowing exact length cable builds and terminations to be performed on-site, thereby eliminating the shorts, excess slack and logistic delays associated with factory preconnectorized cable assemblies."
The company then explained: "Delivering the exact performance results for typical and maximum insertion and return loss as factory MPO/MTP connectors, the Lynx2-MPO Ribbon Jacket splice-on connector's field installable attributes offer the reliability and flexibility of affordable customization, speed of terminations, polarity management and immediate on-site response for faster MACs, network repair, and mission-critical restoration for any communication network, MDU and FTTx applications. As a small form factor connector, the new MPO splice-on connector reduces the space required in racks, panels, pedestals and hubs. The Lynx2-MPO Ribbon Jacket connector, like all Lynx2 connectors, offers the customer the full media types and polishes required for low loss and standard singlemode and 62.5-micron, 50-micron and 50-micron laser optimized gigabit multimode fiber types.
Order and shipping for the new connector begin in January 2013.