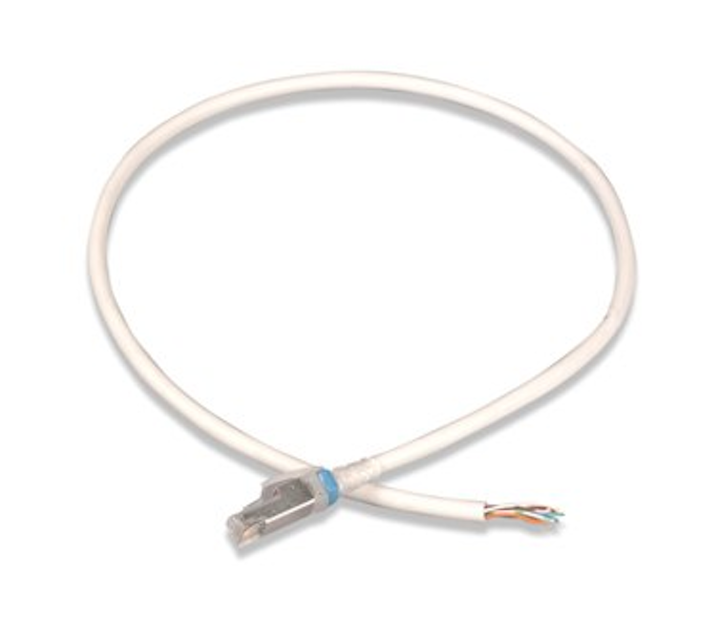 Siemon's 6A Z-Max solid-conductor patch cords extend the distance reach from crossconnects and consolidation points when compared to Category 6A patch cords made with stranded conductors, Siemon says. The company explains that stranded-conductor 6A patch cords must be de-rated per industry standards. Not so with these solid-conductor cords.
Available in both shielded and UTP configurations, the solid-conductor patch cords feature Siemon's Z-Max 6A RJ-45 Smart Plug design, which integrates a printed circuit board (PCB) into every plug. According to Siemon, most often a PCB is found only in outlets. The PCB integrated into this plug provides enhanced tuning capabilities, Siemon says, allowing the cord's transmission parameters to be matched to the Z-Max outlet into which it is plugged.
Explaining the signficance of the patch cords' solid-conductor componentry, Siemon states, "Standard RJ-45 plugs cannot be factory or field terminated to most solid-conductor Category 6A cables because of their inability to accept the larger-diameter solid-cable conductors. However, within the Z-Max plug, cable conductors are terminated to the PCB at the rear of the plug rather than directly to the plug contacts, as they are in traditional plugs." Siemon says its approach not only supports larger conductor sizes, but also minimizes the pair untwist that often is responsible for transmission issues in standard plugs. The Z-Max plug also features the Zero-Cross termination style, which eliminates the split pair (the 3-6 pair) and pair-cross condition that is responsible for increased signal noise and performance degradation that is common in non-PCB RJ-45 plugs. Siemon explains that the Z-Max plug's fixed front contacts also ensure proper mating with outlets to eliminate performance issues with the contact-height variability inherent in traditional crimp-style terminations.
The 6A Z-Max solid-conductor patch cords are standard-compliant and backward-compatible with any standards-based RJ-45 outlet. Their low-profile boot design optimizes their ability to be side-stacked, thereby enabling use in high-density environments. And a cantilevered latch design enhances the cord's high-density accessibility by allowing latch activation from far back on the boot.The patch cords' removable colored clips enable field color-coding even when they are connected.