The CS Consortium recently launched with six founding members: Eoptolink, Go!Foton, Legrand, Molex, Panduit and Senko. The consortium focuses on educating end users and design consultants about the technical advantages of using CS-based high-density connectivity solutions.
"CS is a next-generation connector specifically designed to double the density of QSFP-DD and OSFP transceivers," the consortium said when announcing its founding. "To accommodate the light-speed upgrades currently taking place in hyperscale data centers, the reduced-size CS connector is not only capable of delivering low insertion loss and high return loss performance comparable to existing LC connectors, but with significantly reduced footprint.
"The CS Consortium represents technology leaders committed to providing the most current, reliable, and vendor-neutral information about fiber optics and related technologies for advancing new and better communications solutions," the consortium added.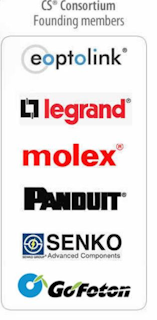 The consortium is open to all third parties that wish to participate as members to enable CS high-density connectivity solutions. In addition to the six founding members, the consortium is open to standard and associate members. Prospective standard and associate members can join the consortium upon approval from the founding members.
"The consortium enables industry participants to develop new technologies in order to benefit the industry by facilitating accelerated adoption of CS-based high-density connectivity solutions," the consortium stated.
The group's communications committee will undertake marketing initiatives including developing white papers, case studies, trade-press articles, and presentations.
More information on the CS Consortium, as well as a membership application, are available from Tiger Ninomiya (Tiger.Ninomiya@senko.com).