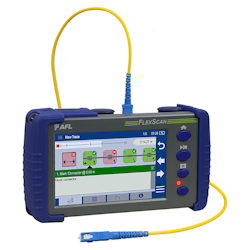 aflglobal.com
At the 2019 BICSI Fall Conference and Exhibition in Las Vegas (Sep. 30-Oct. 3), fiber-optic cable, equipment and accessories manufacturer AFL hosted a panel discussion on the challenges of high-density optical infrastructure in data centers. Additionally, the company displayed its newest product releases, including its ASCEND platform and FlexScan Quad OTDR, among other products, at its booth.
At the conference, AFL led a panel discussion titled "Are You Ready to Deal with the Rapidly Changing Demands of Today's Modern Data Center?" This seminar took place Sunday, September 29. When discussing the seminar beforehand, AFL explained that it would "help guide attendees in choosing the right optical cable infrastructure, managing the volume of fibers and connectors, and achieving the lowest attenuation through correct splicing, cleaning and inspection practices." Attendees could earn BICSI and AIA education credits.
New products AFL showcased include the ASCEND platform, a modular, high-density rack-mount solution designed for data center applications. According to the company, this solution delivers optimal fiber management and ease-of-use, and is comprised of high-density fiber housings, optical cassettes, patch cord assemblies and trunk cable assemblies.
AFL's FlexScan Quad OTDR also was on display. This OTDR was specifically designed for contract installers and network operators deploying and maintaining both single-mode and multimode networks, including Fiber-to-the-Home (FTTH) Passive Optical Networks (PONs), Passive Optical LANs (POLANs) and point-to-point networks. The FlexScan Quad includes a larger, higher-resolution (800x480) gesture-recognition touchscreen display, integrated user-configurable Print-to-PDF, longer battery life plus improved Bluetooth/WiFi communications.
For cable products, AFL featured a host of its MicroCore cables, including the LM200-Series OSP MicroCore Cable which is founded on a design of multi-fiber-set, gel-filled buffer tube construction and allows for reduced diameter cables. The LMHD-Series OSP MicroCore Cable consists of a small-size, thick-walled sheath, making it highly versatile, notes the company.
To learn more about AFL, its products and services, visit www.AFLglobal.com.