Leviton unveils Opt-X UHDX fiber-optic enclosure system
The UHDX is an extension of the company's Opt-X HD fiber-optic system that it says meets demands for maximum density and minimum patching congestion.
Aug 28th, 2015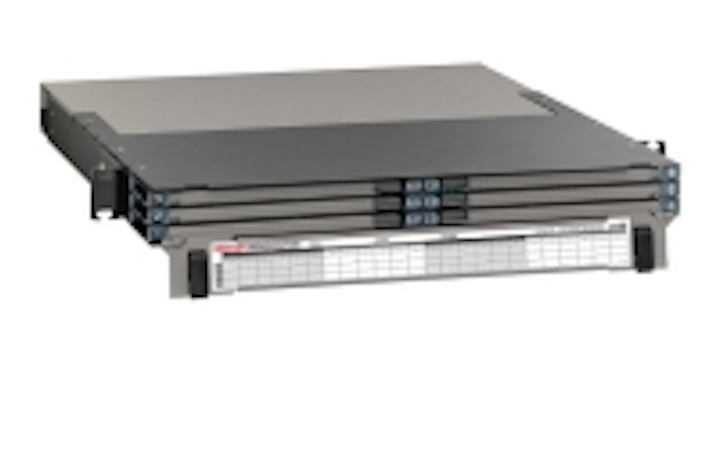 To meet the needs of data center and IT managers, Leviton has released its new Opt-X UHDX fiber-optic enclosure system.
The company contends that "data centers, equipment rooms and central offices increasingly require an ultra-high-density interconnect or cross-connect solution that minimizes rack space in a frame or cabinet, but maintains network manageability. Their operations require: ultra-high-density connectivity, with up to 144 fibers with LC connectors or 1,728 fibers with MTP connectors, in a 1RU enclosure to maximize available rack space; easy access to patch cord connections in dense applications without interfering with surrounding fibers; accessibility to rear cable pathways and trunks for simple maintenance and reconfiguration; clear port identification with ID labels that are easy to apply, remove and update during moves, adds and changes; and a user-friendly design that supports one-person installation and operation."

Leviton says the Opt-X UHDX Enclosure meets all of these requirements and is available in 1RU, 2RU and 4RU sizes. Engineered with individual sliding trays, hinged doors, clear front and back port identification, one-handed operation of trays and cassettes, and refined cable management capabilities, the UHDX enclosure supports network manageability in ultra-high-density enterprise and data center environments, the company asserts.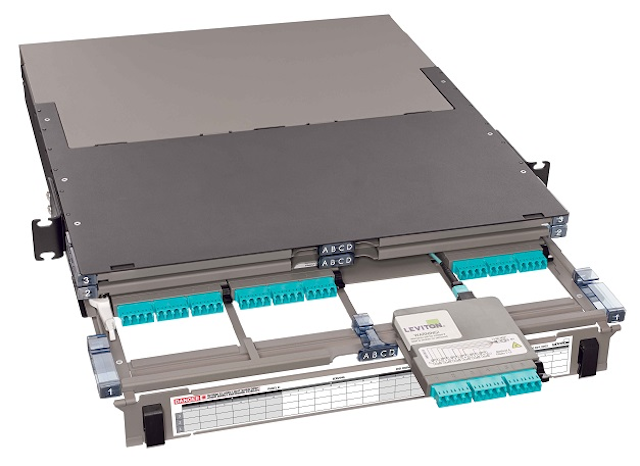 "The UHDX is an extension of our popular Opt-X HD fiber-optic system, using Leviton HDX cassettes to provide the highest fiber density for data center patching," says Tony Yuen, Leviton Sr. Product Manager, Fiber Systems. Yuen adds, "Additionally, when combined with the Berk-Tek Micro Data Center Plenum (MDP) fiber trunks, which use the industry's smallest outside diameter cable, this ultra-high-density system lets you optimize space while easing management of cable assemblies."

According to Leviton, the UHDX components – enclosures, cassettes, cords, trunking, cable management and accessories – are engineered to work together for a consistent solution in all areas of the network. The systems is designed to allow IT managers to maximize rack space, minimize cable pathways and deploy networks faster with the flexibility of a system that can grow or scale to meet emerging business needs.

"The HDX cassette used in the Opt-X UHDX Enclosure is the same cassette used in the Opt-X HD Enclosure and HDF3168 Fiber Patching Frame, so IT managers and administrators can work with the same form factor throughout their entire network," adds Leviton's Yuen. "Whether it's in the main distribution area (MDA) with the HDF3168 patching into spine switches or in the horizontal distribution area (HDA) or equipment distribution area (EDA) with Opt-X UHDX enclosures patching into leaf or top-of-rack (ToR) switches, HDX cassettes offer complete reliability and coverage."

For more information about Leviton Opt-X UHDX Enclosures, visit leviton.com/optxuhdx.