BSRIA data center cabling research shows upcoming migration to 40/100G, ToR's popularity
The recent survey also indicated a significant portion of users consider their data center cabling to be permanent and do not replace it. Ever.
Jan 29th, 2015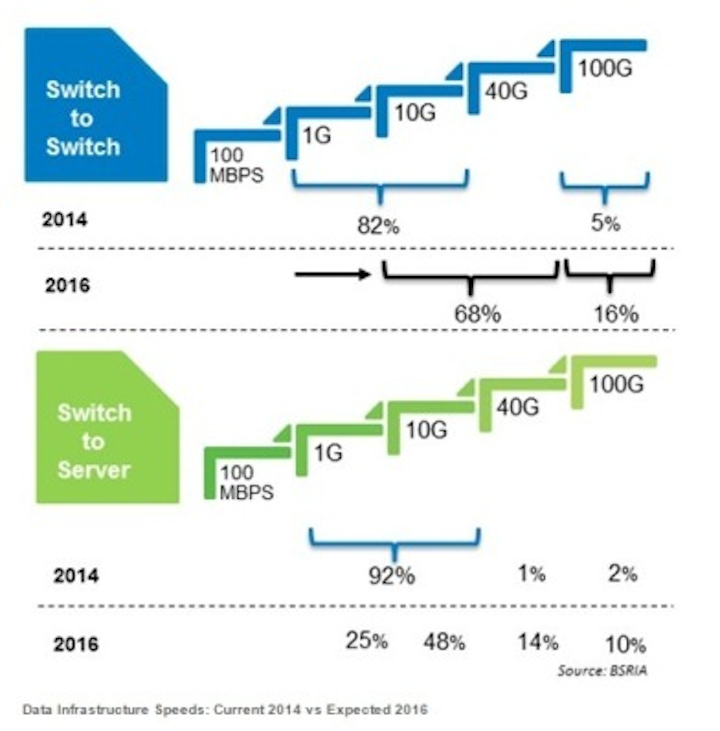 BSRIA has released data from a recent survey it conducted focused on data center cabling. Among the high-level conclusions that can be drawn from the survey are that the top-of-rack (ToR) architecture is more popular in colocation facilities than it is in enterprise data centers, the shift from 1G and 10G to 40G and 100G for switch-to-switch connections is on, and a significant number of data center operators consider their cabling to be permanent—with no history of replacing it nor any plans to do so.
As a predicate to the survey results, BSRIA explained that approximately 19 percent of the global market for structured cabling is installed in data centers, while the remaining 81 percent is installed in LAN applications. Based on its yearly research, BSRIA has determined the structured cabling installed in data centers is estimated at $1.2 billion in 2014. "The data centre segment is expected to continue its increase with huge demand for backup data, video storage, peer-to-peer file sharing, cloud computing and the uptake of the Internet of Things with numerous devices being connected in the future," BSRIA commented.
This latest research covers five countries—U.S., U.K., Germany, China, and Brazil—which combine to account for approximately 68 percent of worldwide data center cabling, according to BSRIA.
Herein are data points and associated charts, provided by BSRIA, based on this most recent research.
"The study highlighted quite significant levels of 1G and 10G both in switch-to-switch and switch-to-server links and expected progression to 40G and 100G planned for 2016," BSRIA noted. Indeed, in switch-to-server connections, 1G and 10G combined to account for 92 percent of connections—a figure that BSRIA expects to drop to 73 percent by next year. And while 40G and 100G combined to account for 3 percent of connections last year, those speeds will combine to account for 26 percent in 2016.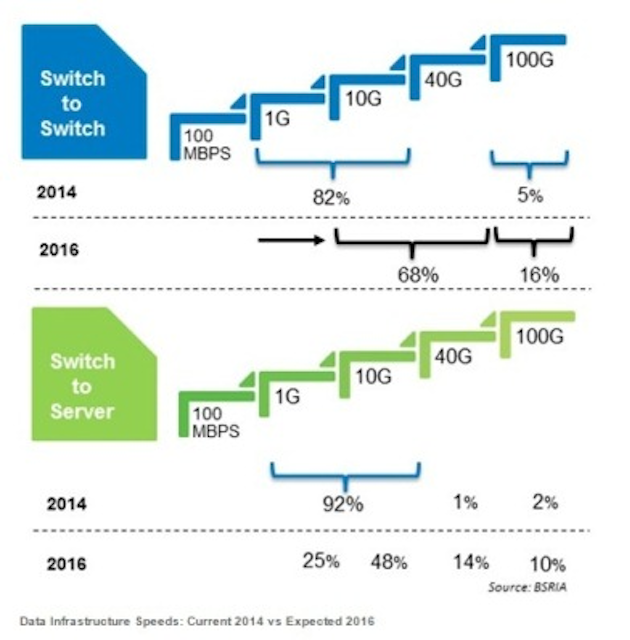 "The uptake of ToR is higher for the colocation segment, at 61 percent, than for the enterprise segment, with 42 percent opting for ToR," BSRIA reported. "A third of the enterprise data centres use centralized switching." The figure immediately below sizes up architectures in enterprise data centers, where 15 percent use end-of-row and another 5 percent uses middle-of-row, to go along with the 42 percent using top-of-rack and the 33 percent using centralized switching.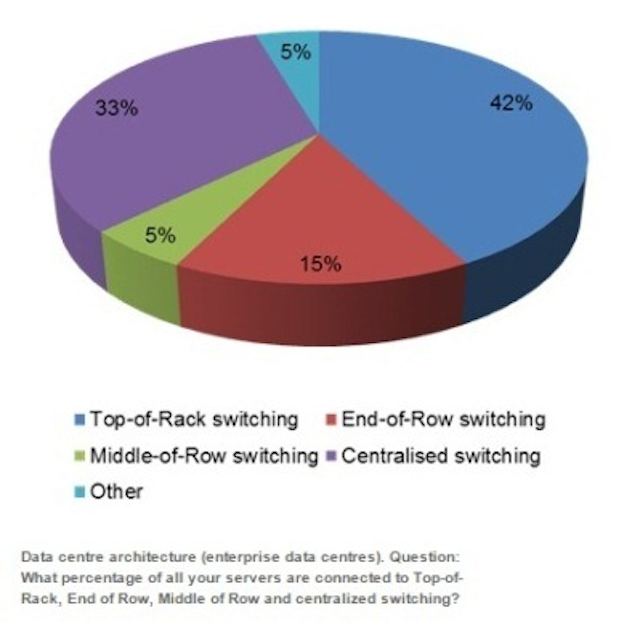 Often discussed hand-in-hand with top-of-rack/end-of-row is the use of point-to-point and structured cabling. BSRIA's survey illustrates a correlation between the two. "The usage of non-structured cabling point-to-point links was significantly higher for the colocation segment, which also has a higher usage of ToR architecture," BSRIA pointed out. Of note, BSRIA's inquiry about point-to-point versus structured cabling specifically pertained to 10G links.
In total, the survey yielded dead-even results with 50 percent using point-to-point and the other 50 percent using structured cabling. But looking at the enterprise data center segment in particular—and in light of the earlier graphic depicting ToR deployment—the correlation is strong. ToR switching is in place in 42 percent of enterprise data center, and point-to-point cabling is in use in 46 percent.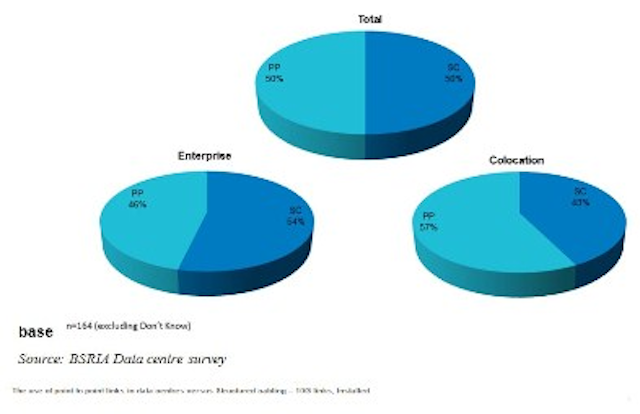 "The main reasons for the use of point-to-point links have remained largely unchanged from 2011," BSRIA said. "They are: the ability to reduce the amount of cabling used, higher-density port count, the ability of SFP+ for fiber, Cisco's recommendations, and the ability to use cheaper cable than structured category cable."
The survey also covered replacement rates for data center cabling. BSRIA reflected, "The typical replacement rates are very similar for copper and fibre cable and connectivity. Around a quarter replace the cabling every 4 to 5 years, and around 15 percent every 8 to 10 years. A significant portion do not replace their cabling." As the chart below indicates, that significant portion is right around 30 percent, for both copper and fiber data center cabling.
More information on BSRIA's Global Data Centre market report is available from Scott Taylor: wmi@bsria.co.uk or +44 (0) 1344 465642.
You can see an overview of the report, from which this story was generated, here.