BSRIA study examines data center cooling for cloud, enterprise facilities
Precision data center cooling methods like evaporative, close-coupled and liquid cooling are sized up.
Nov 18th, 2015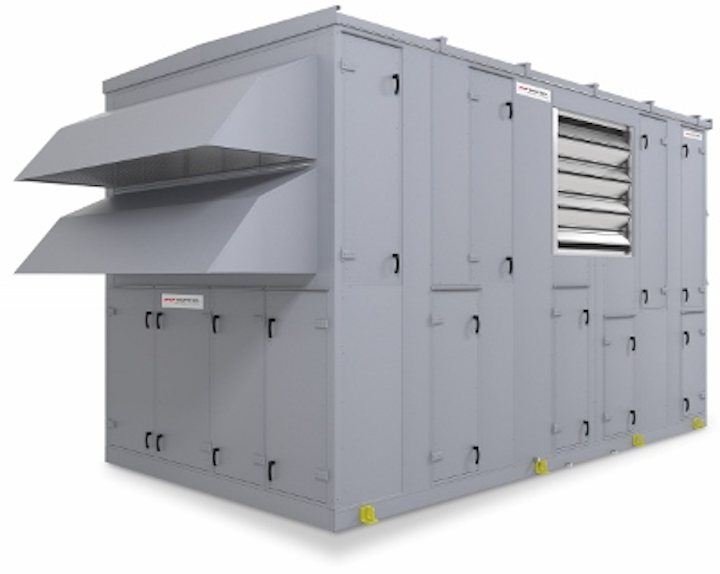 A recently published market study from BSRIA examines multiple dimensions of data center cooling, including technologies used to keep the facilities cool, geographic breakdowns of technology use, and consumption details of on-premises as well as off-site facilities. Citing Cisco's most recent Cloud Index forecast, BSRIA references the prediction for 23 percent compound annual growth rate of data center traffic—reaching 8.6 zettabytes by 2018, the forecast says. BSRIA notes, "The move to off-site data centers is at the heart of this growing trend, however it is not uncommon for data-critical organizations to retain enterprise data centers on their premises."
The market intelligence provider commented, "Cooling within the data center is a fundamental function of the smooth and efficient operation, however the cooling equipment is a major share of the cost within the capex outlay. [Chart provided by BSRIA appears below.] A combination of energy efficiency measures and rising energy costs have resulted in companies searching for ways to lowering their Power Usage Effectiveness [PUE] and operating costs. It is especially crucial for the colocation data centers. In particular, Big Data companies have been criticized for their inefficiency, which is seeing their adoption of newer technologies."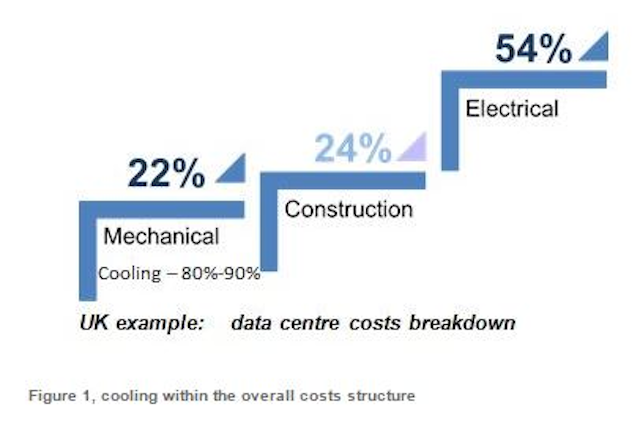 The data center cooling market "is undergoing some dramatic changes and opened opportunities for a range of technologies," BSRIA added, pointing out recent changes to ASHRAE's recently updated recommendations for temperature and humidity levels in data centers. In light of those more-widely opened opportunities, BSRIA sizes up the following precision cooling technologies in its study.
Traditional close control (computer room air conditioning [CRAC] and computer room air handling [CRAH]) "is still fit for purpose in many countries," BSRIA says. "However, it is gradually losing its share to newer technologies, especially evaporative cooling."
Evaporative cooling "capitalizes on the feature of water as a natural coolant when warm and dry air is being humidified, allowing for significant savings in operating costs. Evaporative cooling can either utilize the pressurized or compressed water mist (evaporative system) or wetted pads media (adiabatic system). It is also divided into direct (direct external air allowed into the data hall) and indirect (in which external air does not mix with the internal air within the data hall)." An indirect evaporative cooling system, recently introduced by Nortek Air Solutions, is shown at the bottom of this page.
Worldwide market intelligence manager for BSRIA's IT Cable Group, Lone Hansen, commented, "One major downside with evaporative systems is that they consume water—which can itself be an issue if supplies are scarce—and the evaporative process can cause scaling of pipework and heat exchangers in high-pressure systems. The products are more suitable for new-build projects due to the space and height requirements, as they are mostly large units. The use of water also raises the issue of legionella, which needs to be given consideration in the design and operation of a facility."
Close-coupled data center cooling solutions "embrace a range of products, located close to the heat source: in-row, rack, rear-door heat exchangers and overhead terminal units," BSRIA notes. "These are intended to be more expensive and more suitable at higher-density racks."
Liquid (direct on-chip or immersion) cooling "is taking the water or other source of heat rejection (such as Novec 1230) directly to the server," BSRIA explains. "Depending on application and the technology chosen, the server equipment can be completely submersed into the coolant. However, there is still a certain stigma around liquids being at the heart of the IT equipment and it still remains a rather niche product, used only to deal with extremely high densities in the high-performance computing segment of > 35kW per rack."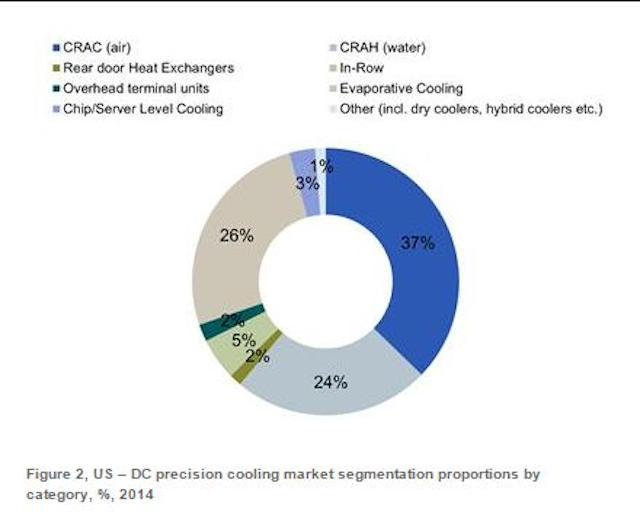 BSRIA's study looks at cooling-technology consumption trends in the U.S. and the U.K. Both regions "are major data center users sharing a similar profile for the choice of cooling technology used, however it is believed that as more applications move to off-site data centers, operators will increasingly be looking for locations in low-cost countries, this will drive the use of different technology used in these newer applications," it says. "The U.S. accounts for approximately 40 percent of the worldwide precision cooling market. It is the market with the largest share of evaporative cooling, representing 26 percent of the total market.
"U.K. had traditionally been a big data center market, being Europe's main banking and financial center. However, recently there has been a move to the cloud and IT companies that are now at the forefront of the data center investment in the U.K."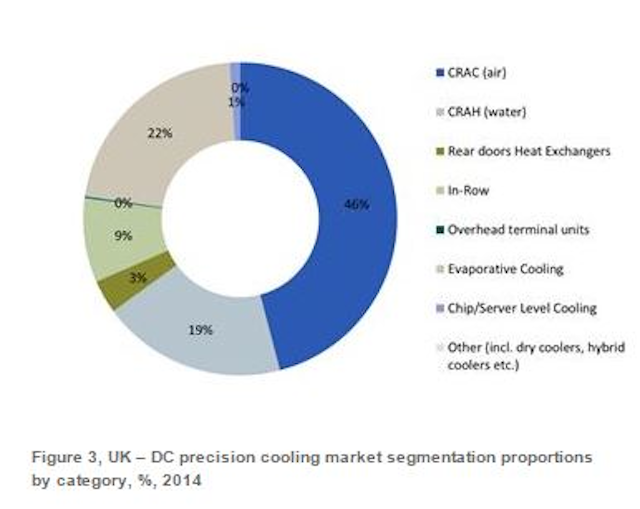 Quoting a claim that "more data has been captured in the last 12 months than the previous 5,000 years," BSRIA notes that Big Data companies and cloud providers are driving the most significant changes in the data center cooling realm. "The strategies they are employing for identifying the appropriate locations for their next data centers are not only defined by the cost-saving strategies to capitalize on favorable tax regime, but also colder climate—allowing them to maximize the use of free cooling.
"Within EMEA the popular destinations for Big Data companies have been extended beyond Ireland to the Nordics [Netherlands, Sweden, Finland], thus creating new data center 'hot spots' within EMEA. Big Data companies choose a variety of technologies to cool their data centers in a most-energy-effective way."
Find out more about BSRIA's market intelligence offerings here.