Alliance promotes shortwave multiplexing over multimode fiber
The Shortwave Wave Division Multiplexing Alliance aims to let data centers extract more value from existing multimode fiber deployments.
Sep 30th, 2015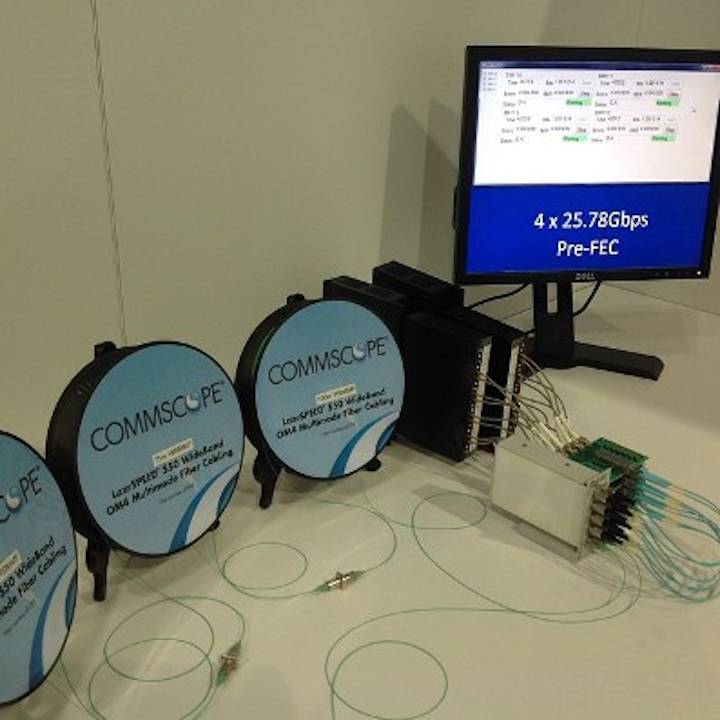 Nine companies recently announced the formation of the SWDM Alliance (Shortwave Wavelength Division Multiplexing)—an interest group with a stated purpose "to drive cost-effective utilization of duplex multimode fiber infrastructure in cloud and enterprise data centers." The group will promote SWDM technology, "allowing data center operators to continue to extract value from their existing duplex multimode fiber deployments and extend the usable lifetime of newly deployed MMF," the group said.
The SWDM Alliance's founding members are CommScope, Corning, Dell, Finisar, H3C, Huawei, Juniper Networks, Lumentum and OFS. The alliance is neither a standards organization nor a multisource agreement, the group explained. It does not address market segmentation, pricing, or competitive issues.
"Optical shortwave technology is enabled by vertical cavity surface emitting lasers (VCSELs)," the group stated, "which are the most cost-effective lasers used in data center interconnections. VCSELs have been widely deployed at data rates up to 10 Gbits/sec, and these deployments have driven large-scale installations of duplex multimode fiber in enterprise and cloud data centers. A common technique to increase the data rate beyond 10 Gbits/sec is the use of four parallel VCSELs, each running at 10 or 25 Gbits/sec, transmitted over ribbons of parallel fiber. This technique requires eight fibers instead of two—four to transmit and four to receive. Installing such parallel fiber can represent an expensive overhaul to the fiber plant in the data center due to the need for increased fiber capacity in the trunk and also new patch cables to the optical modules.
"By contrast, SWDM technology allows users to leverage their installed duplex multimode fiber at 40 or 100 Gbits/sec, using four VCSELs operating at different wavelengths multiplexed onto a single strand of multimode fiber, thereby requiring only one transmit fiber and one receive fiber," the SWDM Alliance further explained. "This provides the ability to migrate from 10 to 40 or 100 Gbits/sec, while minimizing overall power dissipation and maximizing transmission distance."
As part of the alliance's announcement of its formation, Lightcounting Market Research's chief executive officer Vladimir Kozlov commented, "Data center operators have already invested in duplex multimode fiber infrastructure for their 10-Gbit/sec deployments. Using SWDM technology to maximize the utility of those duplex deployments is an example of how equipment providers can offer innovative, cost-effective upgrades to the higher data rates that are now required."
Steffen Koehler, senior director of marketing at Finisar, added, "Multimode fiber and VCSEL technology have been the workhorse of the modern data center. SWDM builds on this history of cost-effective, high-bandwidth interconnect technology to continue the evolution of these data centers."