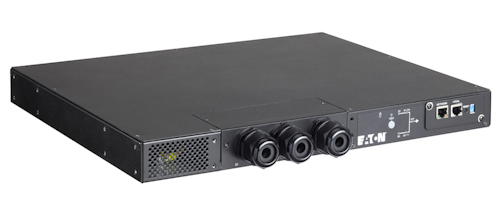 Eaton has introduced its eATS30 monitored platform for data centers. Designed to switch non-phase alternating current (AC) power sources in the event of a power failure, the company says its latest rack automatic transfer switch (ATS) is designed to allow for consistently resilient uptime for equipment with a single power supply.

According to Eaton, the eATS30 monitored platform is especially valuable to mission critical facilities that require consistent, 24/7 uptime for reliable critical data protection. The eATS30 platform features a network communication card that alerts information technology (IT) and data center managers in the event of a power drop, while also providing the intelligence to sense the proper conditions and initiate a transfer and retransfer of the switch to keep devices working properly.
Eaton says its network-connected eATS30 monitored solution delivers a fast 10 millisecond transfer time to allow power supplies to stay on during transfer. This design allows critical equipment to operate at all times. The company notes that it is increasingly common to find single power supplies on IT equipment, which becomes a single point of failure when power is interrupted. The eATS30 adds dual source redundancy or acts as a UPS maintenance bypass, offering a way to maintain power to the equipment.

"With intelligent network connectivity and rapid transfer times, the eATS30 expands Eaton's best-in-class solutions to save time, save money and reduce risk in IT environments with single power-supply devices," says Joe Skorjanec, product manager, Eaton. "In the case of a power outage, the eATS30 is designed to automatically transfer power from the primary source to a secondary source to allow for continuous uptime and business continuity."

Now available in North and South America, the eATS30 monitored solution is optimized to work with Eaton's power management solutions, including power distribution units (PDUs), uninterruptible power systems (UPSs) and other power devices for a synchronized architecture to ensure consistent, reliable uptime. The eATS30 can be paired with Eaton's latest ePDU third-generation (G3) platform to distribute power to multiple devices. This pairing can be monitored through the company's Intelligent Power Manager software, offering end-users an integrated power management system that is virtualization ready.

To learn more about Eaton's ATS platform, visit http://www.eaton.com/eATS. For more information about Eaton's power management solutions and services, visit www.Eaton.com/powerquality.