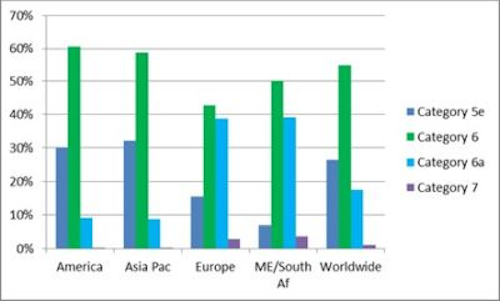 In BSRIA's most recent World Cabling Overview, which it completed in March, the market-intelligence firm declares the global cabling market declined 3 percent in 2015, to $6 billion after 2014's $6.2 billion in manufacturer selling price (MSP). The market estimation covers 39 countries. When announcing the results, BSRIA commented, "The strong dollar has reduced market values in 2015 in many countries, measured in U.S. dollars, and has therefore expanded the decline to 3 percent."
BSRIA identifies Russia and Brazil as countries that fared particularly badly last year. "Russia suffered from sanctions and contra sanctions, and from low oil prices," BSRIA said. "Projects were postponed and fierce competition pushed cabling specifications and prices down." Meanwhile in Brazil "some unusual large projects were completed in 2014 and early 2015, and the country is in economic and political turmoil after some years with significant growth."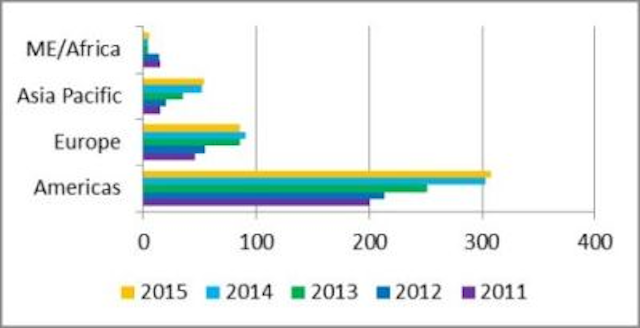 The China market grew, but at a rate of 2.3 percent in U.S. dollars (3.8 percent in local currency) "after years of significant growth, as the local area networks market suffered from lack of new construction," according to BSRIA. "The data center segment performed very well, but it was not enough to boost the overall increase."
In an overall down year, India stood out as a bright spot, increasing by more than 7 percent in U.S. dollars (12.8 percent in local currency), and BSRIA said the country is "expected to continue showing healthy growth in the forecast period to 2018."
As has been the case for a number of years, cabling products used in LANs account for approximately 80 percent of total global consumption, with data center cabling products accounting for approximately 20 percent. BSRIA's study tracks back to 2009; in that span of time, 2015 was only the second time the data center segment contracted rather than growing. It fell by slightly more than 2 percent last year. 2012 was the other year in the review period in which the data center market fell.
The LAN market's decline was slightly more than the data center market's, BSRIA explained, after several years of limited growth or none at all. "The cabling industry and particularly the LAN segment, which is dominated by copper products, continue to see commoditization of cabling with increasing sales of low-cost brands sold as distributors' private labels, and solutions supplied by low-cost suppliers," the organization said.
"Sales of Category 6A continue to increase, and account for 18 percent of the cabling solutions sold by volume in 2015," according to BSRIA. "However, the uptake varies significantly depending on where in the world the cabling is installed. The uptake is relatively low in the Americas and Asia-Pacific, while Europe and the Middle East have a much higher usage of Category 6A solutions.
"Category 5e is still very much sold in Asia-Pacific and America, with close to a third of all cables shipped in those regions, while sales only account for 15 percent in Europe and 7 percent in the Middle East and South Africa."
The many facets of the data center cabling market are like a mosaic. Fiber-optic products represent more than two thirds of all cabling installed in data centers, according to BSRIA, and the uptake of fiber continues to increase—driven particularly by large and cloud data centers. "Most of the hyperscale data centers are 90 to 100 percent fiber, and both medium and large data centers are seeing an increase in use of fiber," BSRIA said. "Copper cabling continues to be installed in computer rooms and small data centers, and are more common in colocation data centers compared to enterprise data centers, as colocation data centers in general are more cost-focused.
"Sales of preterminated fiber units—cassettes, connectors and trunk cables—have increased significantly year on year since BSRIA started collecting the sales figures in 2011. The global growth was 24 percent in 2013, 19 percent in 2014 and 1 percent in 2015."