Active optical cables support 48G to 100 meters
Molex's iPass Plus cables support 12G-per-lane signaling in large-scale enterprises and data centers.
Nov 25th, 2013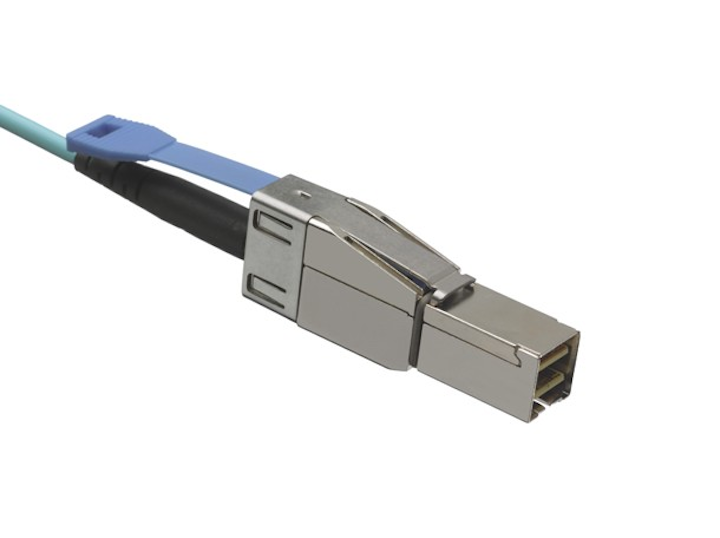 Molex Incorporated's newest iPass Connector and Cable Assembly Solution product set is the High-Density (HD) Active Optical Cable line, which is capable of delivering 48-Gbit/sec data rate. The active optical cables (AOCs) accomplish this rate by supporting 4 lanes of 12-Gbit/sec. The AOCs support a 100-meter distance. When announcing the products, Molex said, "The iPass HD AOCs complement the existing copper iPass+ HD connector and cable offerings and provide large-scale enterprise and data center storage system customers with a complete end-to-end solution."
The HD AOCs have a 3-mm cable outer diameter, which the company says eases cable management and routing challenges and increases flexibility. Additionally, this smaller-size cable reduces board space, Molex points out, for system designers to implement more I/O ports. The cables' power consumption of 0.9W per cable improves overall data center power consumption and thermal efficiency, Molex notes. The cables comply with SAS-3 (12-Gbit/sec) systems with optical-mode capability, 10-Gbit/sec Infiniband and 10-Gbit/sec Ethernet. They are backward-compatible with 6-Gbit/sec SAS-2.1 optical-mode-capable systems.
Brent Hatfield, product manager with Molex, commented, "Storage systems are becoming larger and more distributed due to the pervasive growth of new technologies that provide on-demand entertainment and information, in-depth data analytics and increased information retention. As a result, longer-length cables are required that enable system designers to build next-generation SAS 3.0, 12-Gbit/sec storage equipment. The newest addition to our iPass family provides nearly double the density of the current QSFP+ AOCs, making the HD AOCs ideal for larger scale multi-rack designs."