Corning developing multimode assembly for 300-meter 1.6-Terabit transmission
ClearCurve LX fiber and the MXC connector are optimized for 1310-nm transmission of Intel's Silicon Photonics Technology products, with up to 64 connections of 25G in a single assembly.
Sep 5th, 2013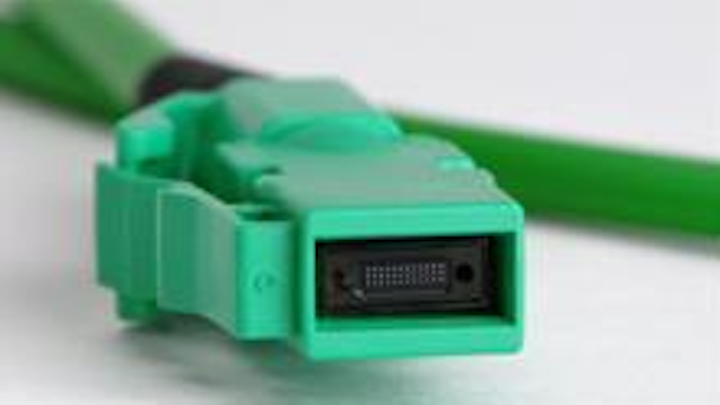 Corning Inc. recently introduced a new multimode fiber and connector technology that has been developed for Intel Corporation, to support Intel's upcoming Intel Silicon Photonics Technology (SPT) products. In a release announcing the technology developments, Corning said, "The resulting combination of the Intel and Corning technologies is expected to help send massive amounts of data—up to 1.6 Terabits per second—at lengths up to 300 meters into and around servers in data centers." The 1.6-Tbit figure comes from the technology's ability to support 64-fiber connectivity with each fiber carrying 25G.
The new multimode fiber, of which developmental samples are currently available, is called Corning ClearCurve LX Multimode Fiber. It is designed to enable 25G transmission at 1310 nm, which is the wavelength used in silicon photonic systems, Corning says. The multimode fiber is bend-insensitive, Corning adds. Additionally, Corning has developed the MXC Connector, which will provide up to 64-fiber connectivity "in a smaller footprint and at a lower cost than most traditional multifiber connectors," Corning said. "When configured with 64 fibers, this solution is designed to deliver data rates up to 1.6 Terabits per second."
The fiber and connector will be offered as a complete product, called the Pretium Edge SiPh Cable Assembly, when Intel Silicon Photonics components are available.
A document titled "Just the Technical Facts" is available from Corning, which details some practical applications of the SiPh Cable Assembly. That document says, "The Pretium Edge SiPh Cable Assembly will be available in low fiber counts (8, 16 and 24) in the first half of 2014 and will later be available in 32 and 64 fiber counts." The document also says Corning recommends using the assembly "for downlink switch-to-server connectivity … Corning continues to recommend structured cabling designed for the data center and MTP connectivity for structured cabling backbones, interconnects and crossconnects. The MXC connector style used by the Pretium Edge SiPh Cable Assembly was designed for interfacing with electronics."
Elsewhere, the document explains the difference between the MXC connector and an MPO-style connector such as the MTP brand connector used in other Corning assemblies. "The MXC connector uses lenses to expand the light emitting from the fiber endfaces," it says. "This light beam is then transmitted through an air gap to the mating fiber. In contrast, traditional MPO connectors like the MTP connector rely on physical contact of mating fiber endfaces."
Accordingly, Corning says, the expanded beam lenses used in the MXC make the connector "less susceptible to optical failure due to debris on the fiber endface. This can provide critical reliability, particularly in areas of the network where connectors are moved and changed frequently, such as the electronics."
You can find out more about the Pretium Edge SiPh Cable Assembly here. That information includes the "technical facts" document, which you can visit directly here. The document includes explanations of how the MXC connector's construction makes it less-costly to produce than an MPO, as well as Corning's recommendations for where in a data center the MXC/assembly fits, and where MPO-based structured cabling fits.