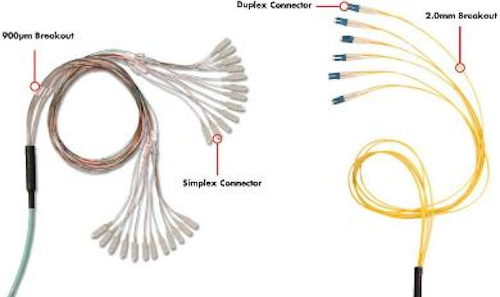 Siemon has expanded its line of fiber-trunking solutions with the addition of XGLO RazorCore assemblies, which the company says have "a significantly reduced cable outside diameter for maximum space savings and air flow."
The assemblies are available in OM3 and OM4 multimode as well as singlemode versions. Options also include 900-um simplex breakout, 2.0-mm duplex breakout, simplex and duplex SC or LC connector types, as well as SC-LC hybrid constructions. Jacket ratings include riser, plenum and low-smoke/zero-halogen; fiber counts can be 12, 24, 36 or 48. Custom assemblies are also available. "Each XGLO RazorCore assembly is designated for proper connector orientation, coded with a unique identification number and individually packaged with a dual shelf reel to protect connectivity during payout," Siemon says.
The company further describes the assemblies' benefits as providing "an efficient, cost-effective alternative to individual field-termination components. By combining the performance of factory termination with the reduced OD [outside diameter] of Siemon's RazorCore fiber, these new assemblies ensure both superior reliability and space utilization in data centers, storage area networks and local area networks, while offering up to 75 percent faster deployment over traditional field termination." The assemblies are compatible with Siemon's fiber enclosures, and they feature an optional encapsulation protection sleeve with a cable pulling eye to protect the fibers during installation.
Siemon fiber-optic product manager Kevin Stronkowsky said, "Siemon precision cable assemblies are 100 percent inspected for superior performance and enhance the installation method popular in today's data centers. By expanding our offering with smaller-diameter RazorCore assemblies, our customers also obtain an average 50-percent size reduction compared to traditional assemblies. This results in less cable tray fill, reduced pathway restrictions and better air flow—all of which support higher densities with improved efficiency and reduced cost."
Related article: There's More to Fiber-Assembly Performance Than Insertion Loss, by Kevin Stronkowsky
One customer who recently used the XGLO RazorCore assemblies is Jean Francois Tremblay, data center manager with France Telecom subsidiary orange Business Services. Tremblay said, "When selecting a fiber-optic solution for our data centers, we wanted a solution that was fully scalable and allowed for the maximum density possible. With Siemon's reduced diameter RazorCore plug-and-play trunks we were confident that the product could accommodate future growth both in space, due to the reductions in tray and pathway fill, and bandwidth, as requirements approach 40 and 100 Gbits/sec, with the straightforward upgrade path."