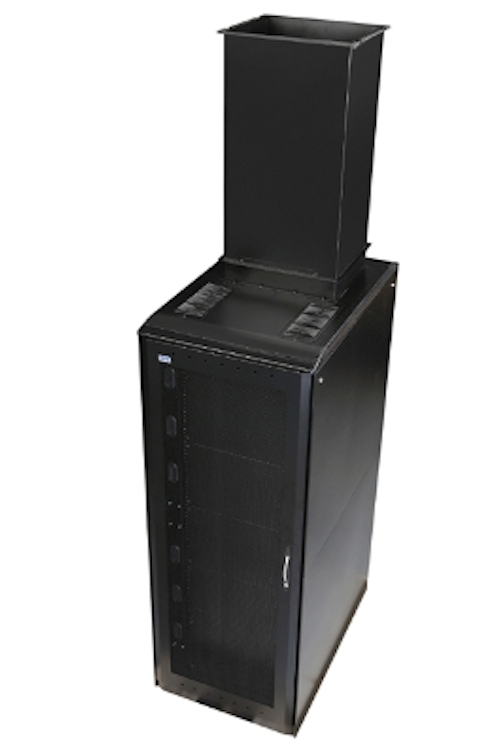 The Telescopic Chimney is the latest addition to Eaton's Wright Line brand portfolio of rack-containment solutions for airflow management. Eaton says the chimney offers "market-leading expansion capabilities and infinite adjustability within the selected height ranges." The company adds that the chimney is "designed to accommodate almost any data center ceiling height," and "provides a flexible solution to support a variety of mission-critical applications in high-density data center environments."
The Telescopic Chimney is a passive straight duct, the company explains, that is capable of channeling up to 20 kW of heat exhaust, "maximizing cooling efficiency by preventing hotspots, recirculating and remixing, while also eliminating hot aisles within the data center." Eaton adds that the chimney directs the hot exhaust air out of the top rear of the enclosure and back to the CRAC units, which increases CRAC unit efficiency. It is compatible with the company's Paramount Enclosures and can be retrofitted for existing Paramount installations. It does not require any electric parts to maintain or monitor.
Ed Eacueo, senior manager of product management and engineering with Eaton, said, "The Telescopic Chimney builds on Eaton's leading turnkey solutions, which are critical in today's diverse data center environment where efficient power management is key. With the tallest chimney extension in the market, coupled with its adaptable range and ability to easily integrate, the Telescopic Chimney provides a flexible solution to reduce energy costs and increase operational efficiency in a variety of data center settings."
The chimney provides a 76-inch maximum extension height from the top of the enclosure. It attaches to the enclosure top panel with eight fasteners and can be installed in less than 30 minutes, the company says.