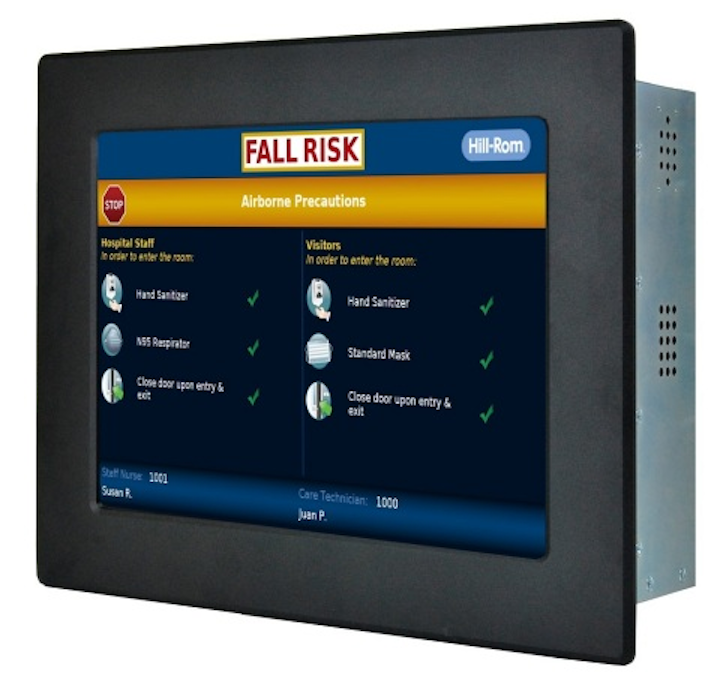 Hill-Rom, a major provider of medical technologies and related services for the health care industry, has selected American Industrial Systems (AIS), a specialist in HMI [human machine interface] and digital signage display technologies, to supply its Power over Ethernet (PoE) touch panel mount PCs for hospital electronic signage solutions outside patient rooms.

Related: Better location and technology deliver better care at new Illinois hospital

Hill-Rom's electronic signage solution utilizes the AIS 10.1" touch screen panel PC computers for displaying digital messaging outside a hospital patient room and can help eliminate the need for paper signage that can be outdated and incorrect. The messaging can be updated manually or automatically, pulling from an HL7 feed. Messages can be personalized to the patient's condition, to some extent. Some examples include information manually entered as patient notes, charted information, issued orders, documented allergies and messages for visitors.

The AIS touch panel PCs are extremely flexible, notes the company, thanks to an open platform design. Utilizing an operating system of their choice, healthcare users and medical device companies can deploy an HMI solution that fits their unique and exact software programming requirements. In addition to their flexibility, AIS touch panel HMIs offer a host of PC-related features, including Windows-based, integrated CPU, RAM, data storage, USB, RS232, RS422/485 and Ethernet ports. Housed in a rugged, all-steel construction-designed enclosure for harsh industrial environments as well, the AIS PoE touch screen supports panel, wall and VESA mounting.

See also: Hospital switches TV channels from coaxial to Category 5e

"The open platform design of our touch screen panel PCs delivers unmatched flexibility and performance for healthcare digital signage and patient display/monitoring applications," comments Nelson Tsay, president of American Industrial Systems. "We are proud to be chosen by Hill-Rom for their hospital electronic and digital signage solutions."

AIS notes that its 10.1" PoE touch screen panel PCs are also ideal for industrial machine manufacturing, process and discrete manufacturing, industrial automation, building automation and custom HMI applications. Featuring a 10.1" industrial-grade LCD flat panel with resistive touch screen technology and NEMA 4 IP65 ingress protection rating front bezel designed for HMI display and visualization solutions, the displays simplify operator control and monitoring systems in PLC, HMI and SCADA applications for industrial users.

More: PoE thin clients enhance green network connectivity