Liquid cooling system for small and medium data centers
Rittal's LCP DX cooling system is available in two versions, one of which mounts inside a rack and the other of which mounts between racks.
Jul 2nd, 2013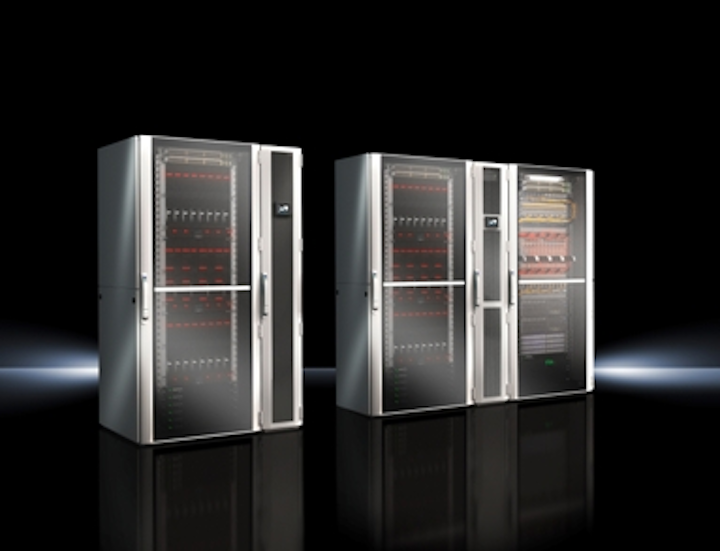 Rittal has introduced the Liquid Cooling Package Direct (LCP DX), which it describes as a "flexible climate-control option for use in small or medium enterprises" that "can dissipate heat losses of up to 12 kW through an integrated cooling unit."
The system is aimed at smaller data centers, which Rittal points out often are situated in places that are more confined than larger, showroom-style data centers. This physical setup of small data centers can increase the risk of hardware failure caused by high temperatures if the servers, switches and storage systems are not completely protected—which they often are not in smaller companies with smaller data centers. Citing a typical setup, Rittal notes, "If the devices are housed in a 19-inch enclosure, air is usually only circulated by a fan in the ceiling plate or a 19-inch rack-mounted fan. If the devices are standing around openly in the room, there may be no climate control or only a less-than-efficient room air-conditioning system."
The DX system includes an integrated speed-controlled compressor, as well as an electronic expansion valve and related refrigeration components including an external condenser mounted outside the data center. This external condenser does not require any active control components because the refrigerant's pressure determines the fan speed.
Two versions of the LCP DX are available; one is for in-rack cooling and the other for in-row cooling. The LCP Rack DX moves cold air either to the right or to the left in a 19-inch rack. The LCP Inline DX mounts between individual racks and blows cool air from the front into the cold aisle. Rittal says that each option is largely preassembled, making them easy to install.