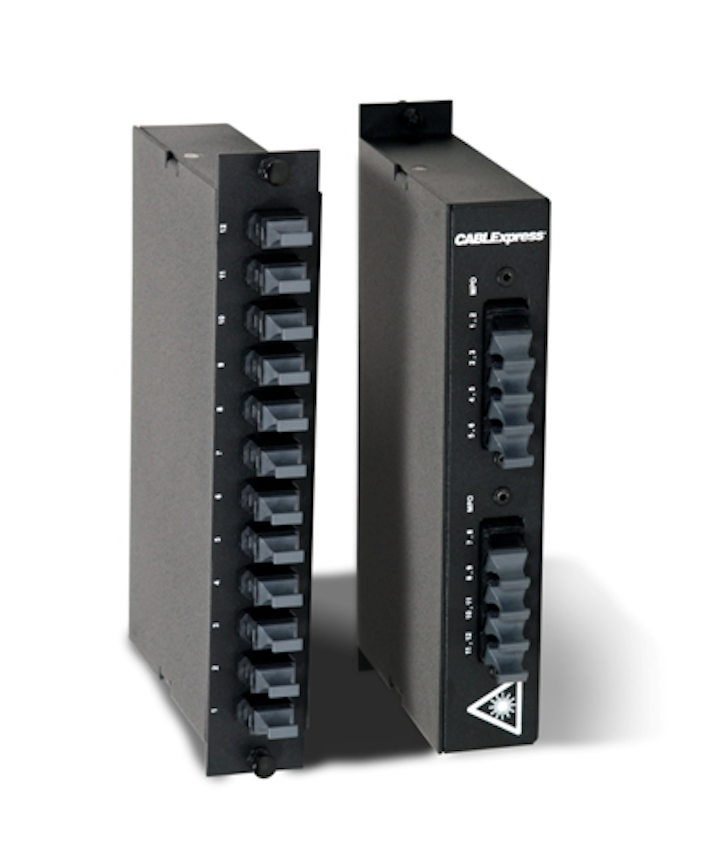 A set of 10G-to-40G conversion modules newly available from Cablexpress "will allow for a seamless transition as customers migrate to higher speeds in their data centers," the company says. The MTP-to-MTP conversion modules replace standard LC-to-MTP modules, transforming 2, 12-fiber paths in the rear to 3, 8-fiber paths in the front. The company explains this conversion makes use of all dark fiber, thereby increasing efficiency of the cabling plant and enabling the shift to 40-Gbit/sec Ethernet speeds.
Matthew Graham, director of Cablexpress, said, "The conversion modules are an ideal solution for customers who currently are or will be making the transition to higher speeds in their networks. The integration of these modules will allow for maximum use of fiber capacities and ensure that customers are getting a full return on their data center investments."
The modules are available in an H Series, which includes 1U, 6U and 10U options; and in an RDS Series, which includes 1U, 2U and 4U options.
The modules include factory-terminated and –tested fibers, components that Cablexpress describes as "ultra low loss"; aggregate fibers that obtain the parallel signal required for 40-Gbit Ethernet multimode transceivers; and a design that directly integrates with the company's Skinny-Trunk Solution as well as the TIA-942 data center cabling standard.